On 14th September 2018, Royal Bodewes launched the latest vessel from their yard in Groningen, MV Scot Carrier.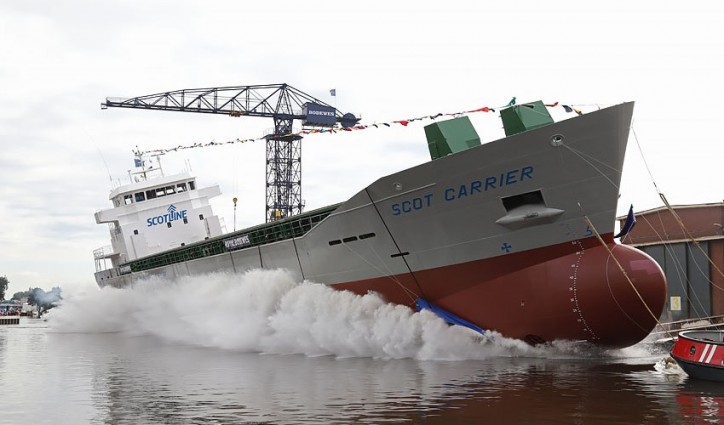 The ship will be the latest and largest addition to Scotline's exclusive fleet of vessels, once she has completed outfitting and sea trials.
"It was a very enjoyable day, hosted immaculately by Royal Bodewes, giving us all a chance to celebrate with friends and colleagues. Pat, the Godmother of the vessel, performed her role perfectly and smashed the champagne first time – hopefully a good omen! Make sure to turn the sound up on the videos, as the whole ship was reverberating as the chocks were removed, building the tension before she finally falls!
She is very similar to our Scot Leader, also built at Royal Bodewes – but originally for a different owner. She has been built to comply with all the latest legislation including provisions to be ready for the ballast water treatment system, when they become applicable. The Scot Carrier will have a length of 89.98 meters, a beam of 15.20 meters, a maximum sailing draft of 5.68 meters and cubics of 235,000 cbf (6650 cbm). She will be powered by a MaK engine, will be sailing under the British Flag like the rest of the Scotline fleet and classed under Lloyd's Register. The Scot Carrier will have a hold depth of just under 9 metres as well as being container fitted and ice class 1B which is important for our Baltic customers.

Thanks to everyone who joined us on the day and who wished her well. We look forward to her final delivery and many years of faithful service."
Related news: Scotline orders another newbuild in Holland
Source: Scotline