On September 17, IAPH African Regional Conference was held in Abuja, Nigeria. Over 400 people from around 40 countries globally participated in the Conference.
As the host of the IAPH 2019 World Ports Conference, Ms. Yuan Yue, Deputy Director General of Guangzhou Port Authority, said at the meeting that the 2018 Beijing Summit of the Forum on China-Africa Cooperation has portrayed a grand blueprint for the future development of China and Africa. China-Africa cooperation has a solid foundation. In 2017, China imported 75.26 billion US dollars from Africa, increased 32.8% year-on-year.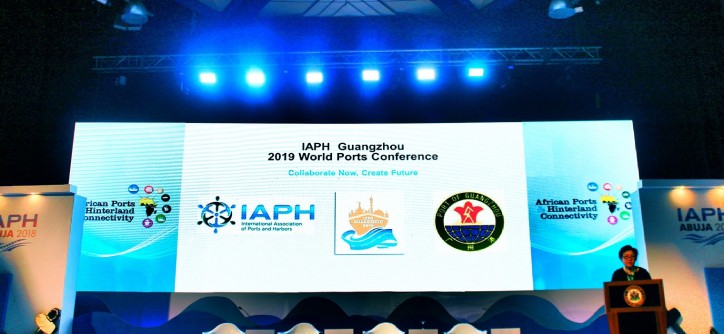 China has become Africa's largest trading partner for 9 consecutive years. Guangzhou Port has now developed into a hub port for African routes in South China, creating a number of "most" for the businesses with Africa: the most intensive routes, the most frequent shifts, and the most varieties of goods. Nowadays, on this maritime channel between Guangzhou and African countries, the cooperation is flourishing.
Yuan Yue highlighted that the 2019 World Ports Conference will be held in Guangzhou in May 2019 with the theme of the Conference will be "Collaborate Now, Create Future". During the Conference profound exchanges and discussions on green and smart port construction and port sustainable development will be conducted. Guangzhou Port will take the Conference as an opportunity to adhere to the concept of openness, tolerance and mutual benefit, further deepen exchanges and cooperation with international ports, and warmly invite all guests to come to Guangzhou to participate in the 2019 World Ports Conference.
During the Conference, Guangzhou Port also held a special exhibition with the theme of "Collaborate Now, Create Future", greatly promoted the development and achievements of the port Industry of Guangzhou and attracted many participants to visit.
A Memorandum was also signed between Guangzhou Port Authority and Nigerian Ports Authority on establishing sister- port relationship. In an interview with the Nigerian National News Agency, Yuan Yue said that signing of the MOU and further exchanges with African ports is a significant approach for Guangzhou Port to implement the "Belt and Road" Initiative and promote international exchanges and cooperation. In the future, Guangzhou Port will actively explore practical cooperation in many fields such as economic, trade, talent exchanges and training with African ports.
The history of Guangzhou Port's contact with Africa could be traced back to over 1,300 years ago when the "Guangzhou's Sea Road to foreign countries" was accessible to the coast of East Africa by boat. At present, there are 22 routes between Guangzhou port and Africa. The cargo from Guangzhou port can reach more than 40 ports of African coastal countries.