Construction began on a world-class offshore salvage vessel in the eastern Chinese city of Qingdao on Saturday and was hailed by Chinese experts as a milestone in the country's deep-sea exploration development.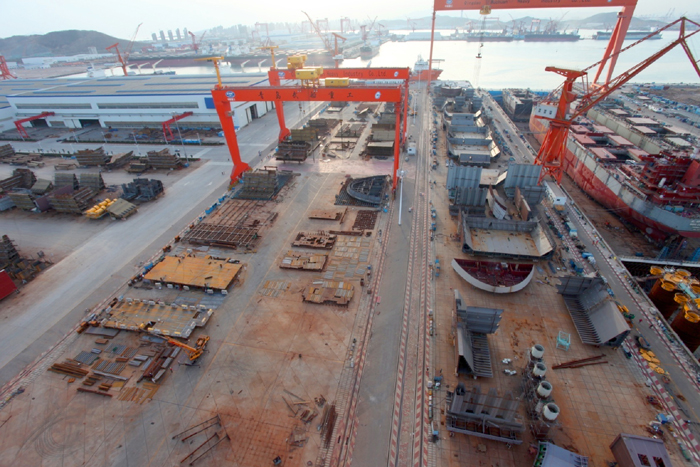 The 13,280-ton, 177.1-meter ship, boasting an endurance of 10,000 nautical miles, will be handed over by Wuchang Shipbuilding Industry Group Company (WSIG) to Shanghai Salvage Bureau in 2020.
WSIG is a subsidiary of the State-owned China Shipbuilding Industry Corporation and the ship is being built by a Qingdao-based subsidiary of WSIG in East China's Shandong Province.
WSIG CEO Yang Zhigang said the ship will be able to carry out offshore emergency rescues in bad sea and serve marine engineering and national defense, the Xinhua News Agency reported on Saturday.
Although the future deep diving support ship will not be able to operate in the Arctic or Antarctic, its remote unmanned operating system will expand China's deepwater operating capacity from 3,000 to 6,000 meters, Yang said.
"One meter deeper is a major breakthrough considering the technological barriers," Gan Yanping, a professor at the Ocean University of China in Qingdao, told the Global Times on Monday.

"The progress is significant for China's marine strategy. The deep sea is rich in oil, gas and marine life resources," Gan said.
The vessel will support pipe laying at 3,000 meters and deepwater hoisting at 6,000 meters, Xinhua said.
Project manager Chen Haiyong said the ship breaks technical bottlenecks and the near-monopoly of foreign technology in the field of saturation diving.
Saturation diving protects operators from the pain and hazards of long periods in deep waters and is widely used in wreckage recovery, underwater construction and exploration.
"China is a fast-paced newcomer in the global competition of marine development," Gan said.
The ship under construction represents a 50 percent improvement on China's most advanced deep diving support vessel Shen Qian Hao, Chen said.
In 2015, Shen Qian Hao salvaged the South Korean ferry Sewol-ho.
Source: Global Times