Daewoo Shipbuilding & Marine Engineering (DSME) said on Oct. 15 that liquefied natural gas (LNG) carriers would soon account for more than 50 percent of its sales.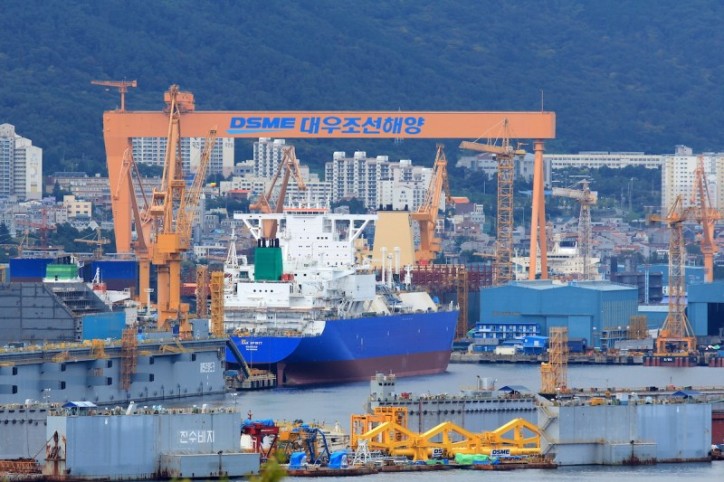 During an investor relations (IR) meeting held at Conrad Seoul Hotel in Yeouido, DSME projected that the company's LNG carrier sales would reach 5 trillion won (US$4.41 billion) this year. The figure is about 51 percent of this year's total sales projections of 9.9 trillion won (US$8.74 billion).
This will be the first time for the share of LNG carriers in the total sales to exceed 50 percent. The figure stood at 7 percent, or 970 billion won (US$856.13 million), in 2014. However, the number of new orders for LNG carriers has been increasing every year amid a steady rise in global demand for LNG. The company's sales of LNG carriers in 2015 and 2016 doubled compared to a year earlier and the figure also grew more than 40 percent to 4.36 trillion won (US$3.85 billion) last year from 3.07 trillion won (US$2.71 billion) a year ago.
DSME saw its proportion of LNG carriers to the total sales grow partially due to a decrease in new orders for offshore plants. The proportion of the plant sector, such as production facilities and drilling ships, to the total sales came to 37 percent in 2014 but it is forecast to drop to 21 percent this year.
This trend is expected to continue for a while because the demand of LNG carriers is on the increase.
British shipbuilding and marine industry tracker Clarkson Research Services predicted in March that the number of new orders for LNG carriers would reach 37 this year and 39 next year but it upgraded the figures to 55 and 61, respectively, in September. In addition, the annual average number of new LNG carrier orders is expected to reach 46 between 2020 and 2023 and 56 between 2024 and 2027.
In particular, South Korean shipbuilders, including DSME, are recognized for having more advanced technical skills than Chinese companies that threaten Korean dockyards based on low labor costs. In fact, CESI Gladstone, a LNG carrier built by China's Hudong Zhonghua Shipbuilding Co., broke down and stopped in the Australian coast due to an engine failure in June and underwent an inspection for over two months. Industry watchers forecast that the number of new LNG ship orders won by South Korean shipbuilders will continuously grow for the time being.
Source: Business Korea