Caterpillar Marine has announced that the Spanish shipping company Baleària, will be converting three ferries from Diesel to LNG dual fuel using Caterpillar and MaK solutions. Caterpillar Marine dealer Finanzauto will perform the engine conversion, with work on the ships scheduled to begin in early of 2019.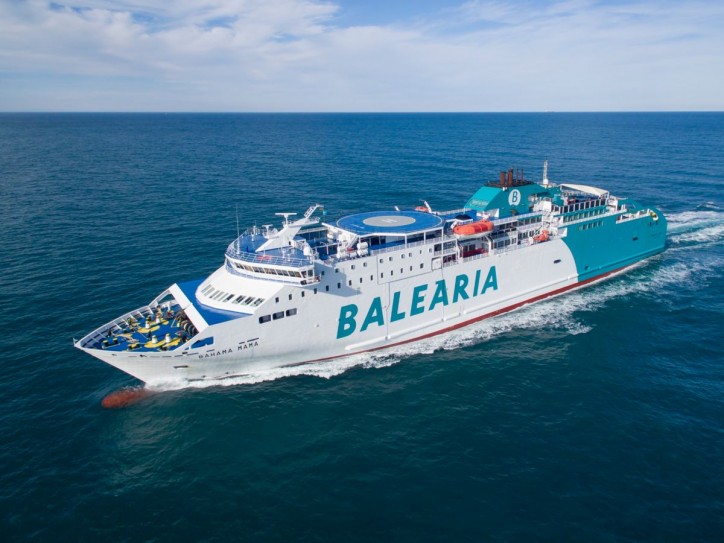 Ettore Morace, General Director of Operations at Baleària, pointed out that this conversion project supports Baleària's goal to reduce emissions significantly and provide clean transportation. By using MaK DF engines Baleària will virtually eliminate the sulfur and particulate matter in the exhaust gases, while also cutting down NOx, resulting in even lower CO2 emissions. This will help Baleària to have a state of the art and eco-efficient fleet.
The three ferries named Abel Matutes, Bahama Mama, and Martin I Soler, are currently equipped with two MaK 9 M 43 C main engines. After the conversion, the vessels will operate on two MaK 9 M 46 DF engines, which has a rated engine output of 8685kW. The MaK engines are used in a control pitch propeller application with a gearbox. The conversion will allow the engines to be powered by gas.
Caterpillar will provide DF-Engine conversion kits and all the required engine modules including an ignition fuel oil module, engine ventilation modules, an exhaust gas ventilation module, GVU ventilation modules, and gas valve units with housing.
Caterpillar Marine has already successfully converted engines for other companies as well. Caterpillar worked with Cat dealer Bolier to perform an engine conversion for the Coral Anthelia from a MaK 6 M 43 C to an MaK 6 M 46 DF engine. An engine conversion was also performed with Caterpillar dealer Pon for the Fure West, converting the MaK 7 M 43 C to an MaK 7 M 46 DF and delivered a gas system.  
Included in their planning to expand and renew their fleet, Baleària (see also CruiseMapper) will also replace the existing main engines on board their high-speed ferry 'Jaume III' with four new Caterpillar 16-cylinder C280 propulsion engines; each engine delivers 5650 kW at 1000 rpm. A similar repower was done back in 2017 on board the sister vessel 'Jaume II' resulting in a notable increase in efficiency and service, with the ship being able to reach high transit speed.
Source: Caterpillar