The Port of Hueneme welcomed its first shipment of Subaru automobiles imported from Japan in mid-October, 2018. The Port's customer, Wallenius Wilhelmsen Solutions (WWS), secured the new automobile brand coming to Hueneme as part of the organic growth happening within the industry.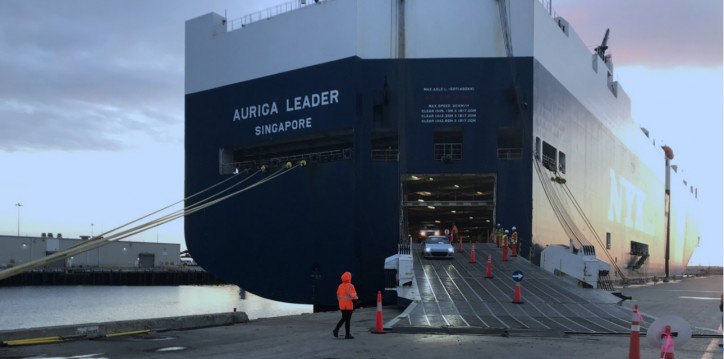 "WWS has been a long-time customer of the Port, and we will continue to work with them to increase opportunity for growth. The more our customers see these growth opportunities, the more good paying jobs we see being created for our local residents," stated Oxnard Harbor District President Mary Anne Rooney. These new Subaru imports will create 35 new full-time and 25 new part-time local jobs.
WWS is the processor of various automobile OEMs (original equipment manufacturers) importing through the Port of Hueneme including: Mitsubishi, Volvo, Land Rover, BMW, Mini Cooper, Rolls Royce, Nissan, Toyota, Maserati, Jaguar, Aston Martin, and now Subaru.
"We welcome Subaru to the Port of Hueneme and are delighted to have them as a customer at our vehicle processing center in Oxnard, California."
Said Ted Boudalis, Senior General Manager of Strategy & Operations for WWS. This new business coming through Hueneme will give WWS greater access to serve the local markets of Southern California, Nevada, and New Mexico. The new Subaru automobiles will be processed at the WWS facility on Hueneme Road at Edison Drive. Processing includes: pre-delivery inspection, labeling, accessory installation, port modification, mechanical/warranty repair, paint and body repair, and rail loading. The WWS Oxnard facility currently employs over 250 employees, and will grow to over 300 employees to with the additional Subaru imports.
CEO & Port Director, Kristin Decas stated, "These new Subaru autos are more than just additional cargo. They represent growing investment in our local community, increased economic opportunity for our local residents, and additional good-paying jobs." WWS has been a customer at the Port of Hueneme for over 27 years. WWS, along with the Port's various other customers, generate over $93 Million in state and local tax revenues which go toward supporting local schools, fire and police departments, social and health services, city streets, and city governments. Oxnard Harbor District Commissioner Jess Ramirez concluded, "As a special district, our focus is on providing our region a trade gateway to the rest of the world. These new Japanese automobiles are a great example of how interconnected our world truly is. We are grateful to be a hub for WWS, and are committed to working with them to grow their business in our community."
Source: Port of Hueneme