Seaspan's Vancouver Drydock (Seaspan) announced yesterday (Oct 24) the completion of work on the Silver Explorer for Silversea Expeditions. This spectacular vessel has an ice-strengthened hull and is designed to safely bring guests to some of the world's most remote locations where she often needs to push through treacherous ice floes.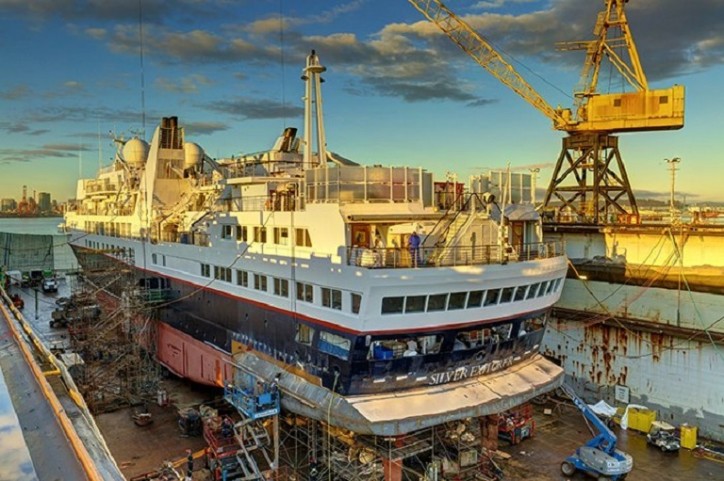 The Silver Explorer (see also CruiseMapper) begins her next cruise having received significant investment to further enhance the experience of passengers aboard this ultra-luxury vessel. One of the key considerations for the vessel's owners was ensuring that the chosen shipyard, Seaspan, had an excellent reputation and understood the care and consideration needed to work on this unique vessel.
The Silver Explorer arrived in mid-September and remained under the care of Seaspan, which worked collaboratively with local suppliers and other partners selected by Silversea Expeditions to oversee the refit work. This project was truly a team effort involving 125 contractors working together to complete a variety of upgrades, including the manufacturing and installation of a stabilizer – or ducktail – on the stern of the Silver Explorer.
In addition to assembling a stabilizer, work taking place on the vessel included tank top repairs and changes to some of the tanks functionality, propeller repair and polishing, blast and painting work of the underwater hull. Work on the vessel was completed October 11th, on time and on budget. The Silver Explorer returned to the ocean that same day.
"Our company is proud to have worked on the Silver Explorer. The enhancements to this unique vessel are the latest example of the world-class work taking place at Vancouver Drydock. Exciting projects like this enable Seaspan to create and sustain highly-skilled, middle-class jobs here in our community of North Vancouver. We look forward to welcoming the next exciting project to Vancouver Drydock and building on the unique work that was accomplished." - Paul Hebson, Vice President and General Manager of Vancouver Drydock

"The exploration cruise vessel market is one that Seaspan Shipyards is well placed to support. With our shipyards convienently based in Vancouver and Victoria located minutes away from the Cruise Terminals where these vessels start and end their Arctic Cruises we occupy a strategic postion that is supporting Canada's role in the broader maritime economy." – Ad Bertens, Business Development Director, Seaspan Shipyards.
For other cruise ship reconstruction and refurbishment projects see at CruiseMapper
Source: Seaspan