SP-SSA International Terminal, located in the southern province of Ba Ria-Vung Tau's Cai Mep area, has handled one of the highest container volumes ever from a single vessel call.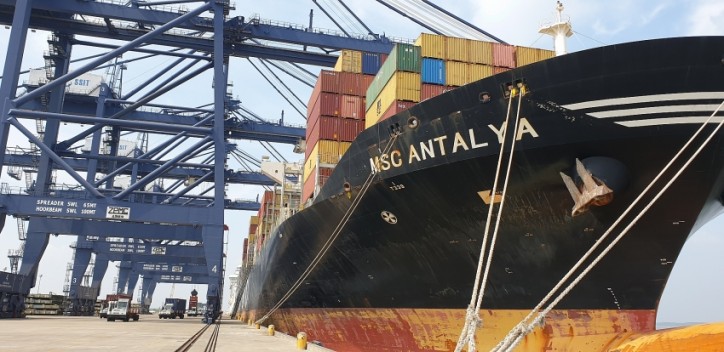 The MSC Antalya, owned and operated by MSC Geneva, one of the world's largest shipping lines, discharged a massive 4,718 containers. SSIT achieved a remarkably high berth productivity of 130 container moves per hour with four ship-to-shore cranes. The overall single crane productivity was 35 moves per hour.
SSIT was built to handle the largest container vessels in the world, Ultra Large Container Vessels (ULCVs) that can carry up to 20,000 twenty-foot equivalent units (TEU) with a deadweight capacity of up to 200,000 tonnes.
SSIT's location is the furthest downstream, closest to the river mouth connecting to the sea. It has a 700-metre safe turning basin, 16.5m depth alongside the main berth, and a deep (14m) channel.
Currently, the Ministry of Transport has planned to dredge the channel to 15.5m by the end of 2018. The terminal is equipped with the largest super post-Panamax container shore cranes in Vietnam, with an outreach of 23 container rows.
The overall operational berth length exceeds 1km, 425m of which are dedicated to barge operations. SSIT's land area totals 60ha with a container handling capacity that will reach about 1.2 million TEU throughput annually.
SSIT is a joint-venture container terminal of US-based SSA Marine, owning 50 per cent of the facility, Saigon Port controlling 39 per cent, and Vinalines holding 11 per cent.
SSA Marine, a subsidiary of Carrix, Inc., is the largest US-owned, and the largest privately held container terminal operator and cargo handling company in the world, handling approximately 22 million container TEUs per year.
The nearly 60-year-old company serves more than 120 locations worldwide, including port operations throughout the US as well as internationally in Panama, South Africa, and New Zealand.
Source: Vinalines