Svitzer, a leading provider of harbour and terminal towage to the global shipping industry, welcomes Svitzer Meridian in the port of London. The Meridian is the newest addition to Svitzer's powerful fleet serving the maritime industry in Britain's largest port.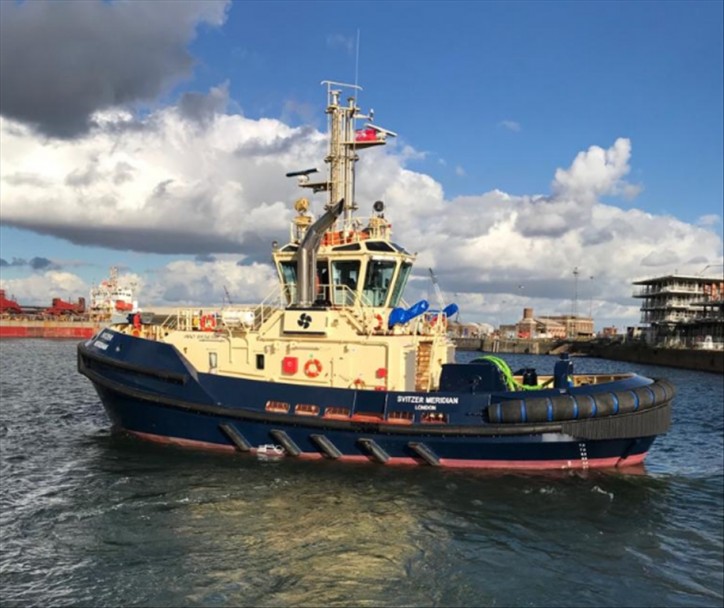 Today, the new-built Svitzer Meridian started working on the river Thames serving vessels going in and out of London, the busiest port in the UK. On her first job the Meridian assisted the MSC IRIS in berthing on her arrival to London. The Meridian arrived 12 days ago directly from Sanmar's shipyard in Turkey after a journey of 17 days.
Svitzer Meridian, a 70 TBP ATD FF1 tug, joined Svitzer's existing fleet of nine tugs in the port. London is called by a very diverse pool of vessels, so she will be working with all types of vessels incl. container and cruise ships, tankers and LNG vessels.
Kasper Friis Nilaus, Managing Director Svitzer Europe said: "Over the past years, we have seen the volumes in London picking up significantly. The activity in the port is clearly growing which makes it one of our most busy ports in Europe. Svitzer Meridian is a versatile tug and will prove useful both at London Gateway and in the Medway. Svitzer Meridian has been fitted with firefighting capabilities, which enables a water pumping capacity of 10,569 gallons per minute from two fire monitors to better cater for the requirements in the port."
Svitzer Meridian sails under the Union Jack. She performs 70 tonnes bollard pull ahead, going a maximum of 12.5 knots ahead and 12 knots astern. The two main engines are 2100 kW Caterpillar 3516C HD. Additional technical details enclosed. The Meridian's sister vessel, Svitzer Vale, that worked in London over the summer is now serving the port of Bremerhaven.
Svitzer employs more than 70 experienced seafarers with exceptional local knowledge in London adding a 24-hour manned operations centre accommodating the inevitable changes that trademarks the industry.
Source: Svitzer