Daewoo Shipbuilding & Marine Engineering (DSME) has successfully won a bid for the super-large crude carriers, signalling a green light to achieve its goal this year. DSME said on Nov. 5 that it has won a $273 million contract for three very large crude carriers (VLCCs) from Hunter Tankers SA, an affiliate of the Norwegian Hunter Group.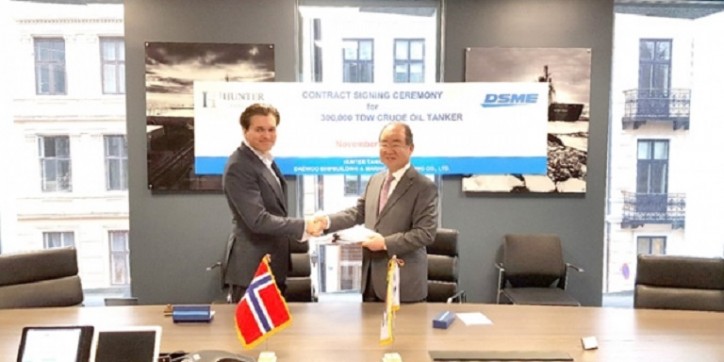 However, the contract includes a fixed one for one crude carrier and an option for the other two to confirm orders within this year.
Hunter Tankers entered the shipping industry by ordering the first super-large crude carrier to DSME in February. This year alone, it has ordered as many as 10 large-sized crude carriers to DSME, and it is known that there are continuous expansion plans, raising expectations for additional orders.
The super-large crude carrier is 336 meters long and 60 meters wide. The crude carriers that DSME succeeded in winning orders this year are expected to have the same design and specifications, thereby maximizing the building effect.
DSME has an overwhelming record this year in the super-large crude oil carrier field. According to the Clarksons report, DSME has won the largest 18 orders out of 41 super-sized crude oil carriers this year, bringing 44 percent of the world's orders.
In particular, the price of the super-sized crude carrier recovered to 90 million dollars in August, 27 months after the comparable price dropped below 90 million dollars in June 2016.
"We are pleased to continue our strong trust with DSME, the world's top VLCC builder," said Arne Fredly, a large shareholder of Hunter Group.
Source: Korea Times