The Maersk Mc-Kinney Moller arrived at DP World London Gateway Thursday, the first vessel on the AE7/Condor service to call at the port.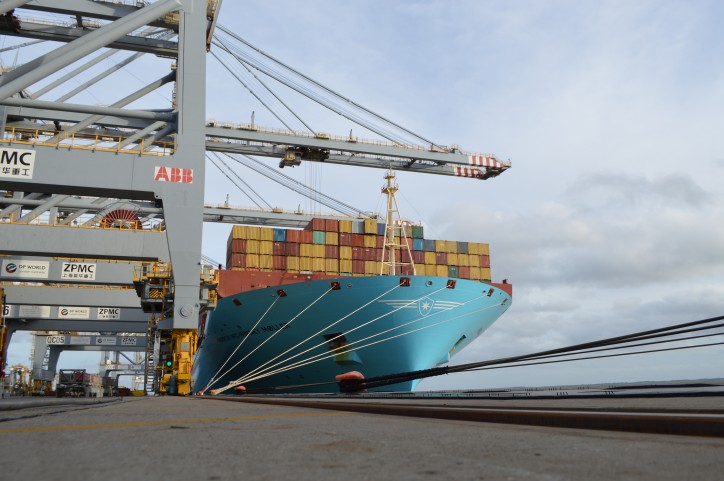 The flagship Maersk Line vessel, which is 399 metres long and able to hold 18,270 twenty-foot equivalent container units, berthed on the River Thames in the early hours of the morning on Thursday (November 29).
2M, the largest container shipping alliance in the world, announced earlier this month that this particular Asia-Europe service would begin calling at DP World London Gateway Port on a weekly basis.
The AE7/Condor service is operated by Maersk Line and MSC, with Hamburg Sud and HMM taking slots on the service.
It carries cargo between the Chinese mainland, Hong Kong, North Africa and Northern Europe and on vessels which have capacity ranging between 17,500 and 19,500 TEU (twenty-foot equivalent units). In the past, the port has handled several of the vessels operating on this loop, including the 19,224 TEU vessel MSC Tina and the 18,270 TEU vessel Madison Maersk.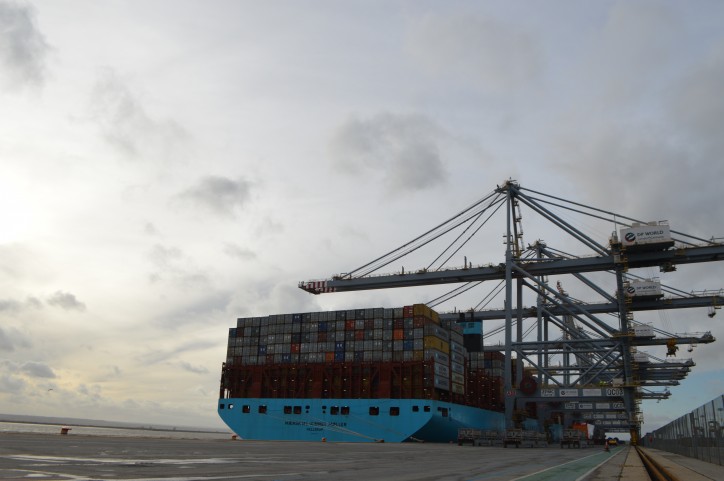 The announcement that the service would begin calling at DP World London Gateway came as the port celebrated its fifth anniversary on Tuesday, November 6.
During those five years, both MSC, Maersk and Hamburg Sud have become valued customers of the port, carrying UK trade in and out of the facility from countries in South and Central America, the Mediterranean, South Africa, Pakistan, India and more.
Since opening, the port has grown to handle a total of 22 weekly services which link London to more than 115 ports in over 61 different countries.
A combination of cutting-edge automated technology, hard work from a dedicated, customer-focussed team and will to constantly refine and improve operations at the port has contributed to the River Thames facility being one of the fastest growing ports in the world, by percentage TEU growth.
Michael Collins, Commercial Director, MSC UK, said: "In order to maintain the highest level of service for our customers in the UK, we have welcomed the change of the Condor service to DP World London Gateway, which will continue to offer market-leading landside connections and direct sailings to Jebel Ali in 20 days, and Salalah in 18 days.

"We've worked closely with DP World for a number of years, so we're delighted to see even more customer interest in services calling at the port."

Brian Godsafe, Managing Director UK & Ireland, Maersk Line, said: "In order to serve the transportation needs of our customers in the best possible way and optimise our offering in the UK, we have decided to change to port rotation of the AE7 service, as part of Asia-Europe network.

"We expect that with this change, our customers will experience a reduced number of schedule changes and unexpected disruptions, all while enjoying the usual service level provided by Maersk."

Chris Lewis, UK Chief Executive Officer, DP World, said: "We are delighted that the AE7 has started its regular call at London Gateway and we are grateful to MSC, Maersk Line, Hamburg-Sud and HMM for backing us to deliver fast, efficient and reliable services to them and their customers.

"It is five years since the port was formally opened and in that time DP World has remained steadfast in its determination to develop a global hub (port and logistics park) for UK trade. By investing in the latest technology and employing the best people in a location that reduces carbon emissions and cost in the supply chain, we have turned this vision into reality and we will continue to innovate and improve our services for customers going forward."
Source: London Gateway