Fortescue Metals Group has officially named the first two tugs in its new fleet, FMG Hammerhead and FMG Mako, at a ceremony at Damen Song Cam Shipyard in Hai Phong, Vietnam.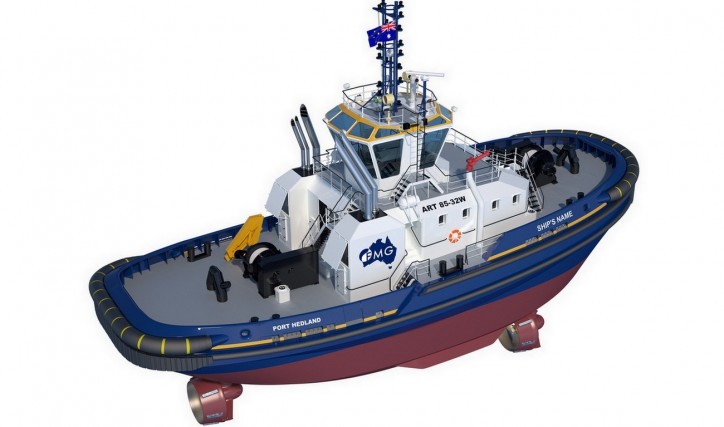 Fortescue is procuring nine tugs, including six Advanced Rotor Tugs 85-32W, constructed by Damen Shipyard and its joint venture partner Song Cam, to provide safe and reliable towage services and maximise the efficiencies at Fortescue's world class port operations in Port Hedland.
Chief Executive Officer, Ms Elizabeth Gaines, said: "As a global leader in the iron ore industry, we ship in excess of 170 million tonnes of ore annually, which involves up to three ship movements from our operations at Port Hedland every day."

"We are proud to operate the most efficient bulk port operation in Australia and the towage fleet represents the final element in Fortescue's supply chain."
The naming ceremony coincided with the completion of the tug haven construction project at Fortescue's Herb Elliott Port. The innovative, nine berth facility was built in the vicinity of berths one to three at Anderson Point.
"Together with the new tug facilities, Fortescue's tug fleet will provide additional capacity and an alternative supplier of towage services for all Port Hedland users, ensuring Fortescue can provide long-term sustainable towage services crucial to meeting the demands of our customers," Ms Gaines said.
Following an internal competition to name the fleet, Fortescue team members overwhelmingly voted in favour of naming the tugs after species of sharks.
"Sharks represent the strength and endurance of these tug boats and of Fortescue itself," Ms Gaines said.

"I would like to thank the entire Fortescue family who have worked on this project, as well the team from Damen Shipyard and Song Cam, for their ingenuity, determination and hard work. We look forward to celebrating the arrival of the tugs into Port Hedland next year."
Background
Fortescue secured the second towage licence at Port Hedland in May 2016.
Fortescue has engaged KOTUG as its towage services operator. KOTUG will work with local provider Westug Pty Ltd to manage the towage operations in Hedland.
Towage services will commence in mid-2019.
Source: Fortescue