Scotline announced earlier today that the Company took delivery of cargo ship Scot Carrier.
After the vessel's launching in September and 2 months of finishing works, the vessel was delivered on schedule.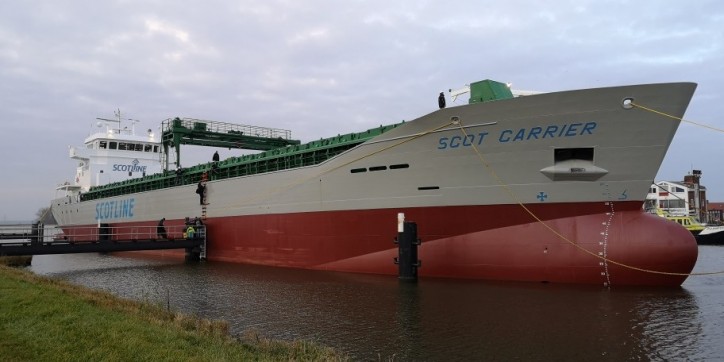 Scot Carrier is the 9th and the largest vessel in Scotline-owned fleet, plus the 6 vessels on long-term time charter.
On her maiden voyage, the vessel will be loaded with timber cargo from Riga, bound for Rochester and then it will sail on to her home port of Inverness.
"We're very pleased that she's come into service and hope for many years of safe and happy trading" - Scotline
The Scot Carrier has a length of 89.98 meters, a beam of 15.20 meters, a maximum sailing draft of 5.68 meters and cubics of 235,000 cbf (6650 cbm). She is powered by a MaK engine, sailing under the British Flag like the rest of the Scotline fleet and classed under Lloyd's Register. The Scot Carrier has a hold depth of just under 9 metres as well as being container fitted and ice class 1B which is important for Scotline' Baltic customers.
Source: Scotline