The cable laying/multi-purpose vessel Ndurance of Boskalis performed a number of trials at Alexiahaven, Maasvlakte 2. The diesel-electric vessel Ndurance is a multipurpose vessel, it can be outfitted for cable laying or a wide range of other tasks, including diving support, subsea rock installation, offshore construction support, salvage assignments and even dredging operations. A six-point mooring system is part of the standard outfitting of the vessel.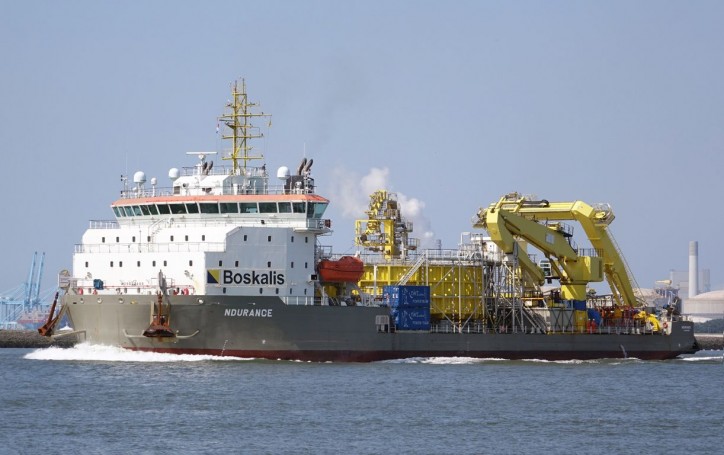 Test trencher system
The trenchformer on board of the Ndurance is cable trencher for a wide range of soils and cab types. The trencher can bury cables in deep waters as well as in shallow areas. Besides working together with a cable laying vessel, the Trenchformer can also operate as a stand-alone spread. During the trails, the trencher has been lowered to the bottom. The operation of the trencher system has been tested successfully.
Perfect test conditions Maasvlakte 2
During the trial, there has been made good use of the test and demonstration space, especially the offshore pit, which is developed for testing new ship techniques.
The conditions, the climate and the existing companies and services make Maasvlakte 2 the ideal location for testing offshore wind facilities. There is a wide range of options on land, in the air and in/on the water. Rotterdam port offers clear water, little or no wave motion and limited currents. There are short-stay and long-stay locations available and the offshore borehole is more than 25 metres deep. That makes water suitable for various anchor tests and cable-laying systems.
Source: Port of Rotterdam