Wednesday (Dec12) South Carolina Ports Authority (SCPA) announced the strongest November in its history, with 15 percent growth over the same month last year.
The Port handled 188,585 twenty-foot equivalent units (TEU) in November. SCPA has moved 985,981 TEUs across the docks of its Wando Welch and North Charleston container terminals since the fiscal year began in July, an increase of 11 percent over the same period last year.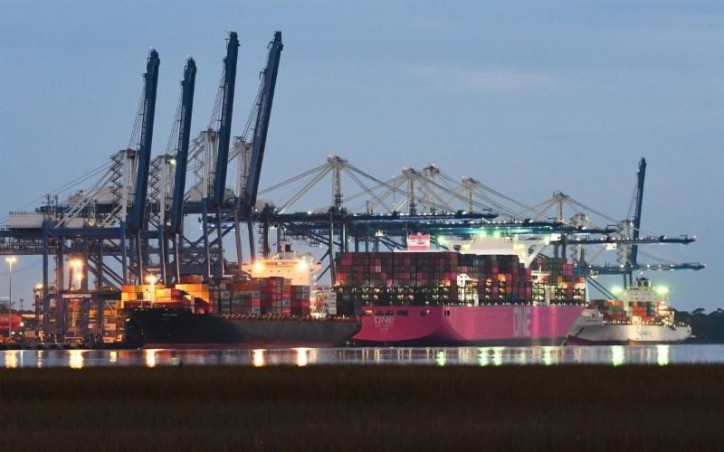 "While the US economy remains strong, there is increasing evidence that US beneficial cargo owners advanced shipments from Asia in an effort to avoid tariffs," said Jim Newsome, SCPA president and CEO. "Although mostly to the US West Coast, in view of the shorter transit times, there were 25 extra loaders employed by container shipping lines to meet this peak demand. Most of these ships will arrive in December which indicates that December will be a busy month. The first calendar quarter of 2019, however, is much more uncertain in terms of outlook and considering strong volumes achieved in the same period in 2018."
As measured in pier containers, or boxes handled, SCPA moved a record 107,762 boxes in November. Fiscal year-to-date, pier container volume is up nearly 12 percent with 562,185 boxes moved since July.
Inland Port Greer handled 9,558 rail moves in November, pushing fiscal year-to-date volumes to 51,476. Last month, 16,977 finished vehicles rolled across the docks at Columbus Street Terminal.
Board Action
In terms of significant actions taken at the meeting, the SCPA Board approved a capital expenditure of $60 million to complete the outfitting of the Wando Welch Terminal with neo-Panamax cranes. SC Ports will purchase four more cranes from Shanghai Zhenhua Heavy Industries (ZPMC) with 155 feet of lift height for delivery in mid-2020. Once delivered and commissioned, the Wando Terminal will have 15 cranes of similar capability, giving it the ability to handle three 14,000 TEU ships at once. This combined with efforts to densify the container yard, implement a new operating system (Tideworks), and expand gate and chassis capacity, the Wando Terminal will gain an additional 700,000 TEU of capacity.
"The port continues to build critical infrastructure to ensure both reliability and fluidity for our customers, both shipping lines and beneficial cargo owners," Newsome said. "Further big-ship deployments are anticipated in advance of the International Maritime Organization (IMO) 2020 sulfur cap and once more clarity is achieved relative to the current trade dispute between the US and China."
SCPA also announced that its Chief Financial Officer (CFO), Stan Van Ostran, will leave the organization at the end of 2018 to pursue other opportunities and move closer to family. The SCPA Board approved the appointment of Phillip Padgett as its new CFO effective January 1, 2019. Padgett is currently the Director of Controlling at SC Ports, and has extensive experience in financial management.
"We are excited about this new opportunity for Phil and know that he will carry on the tradition of strong financial management at SCPA," Newsome said. "We wish Stan Van Ostran well in his future endeavors."
The Board acknowledged with gratitude the award of a Better Utilizing Investments to Leverage Development (BUILD) grant in the amount of $25 million to assist in the expansion of Inland Port Greer and the enhancement of the Norfolk Southern linehaul rail infrastructure between Columbia and Greenville.
"Growth in intermodal container rail is strategic for the port and this significant grant will assist us in further improving our share of containerized cargo handled by rail," said Newsome.
New SC Ports Headquarters
Yesterday was the last SCPA Board meeting prior to the agency's move into the new headquarters at 200 Ports Authority Drive in Mt. Pleasant in early January.
Source: SCPA