Yilport Holding, a subsidiary of Yildirim Group of Companies, won Port Operator Award at Lloyd's List Global Awards presented on December 11 at the Hilton Hotel on Park Lane, London. Yilport became the first ever Turkish company to win the prestigious award.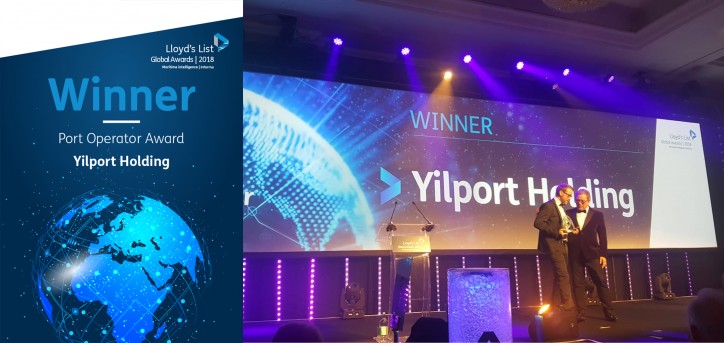 The awards were attended by 400 industry professionals and managed by Lloyd's List, the leading maritime commerce since 1734. Yilport Holding was chosen among global competitors and adjudicated by a distinguished judging panel. This year's panel included Lars Green, CEO, Green Consulting Group; Oskar Levander, SVP Concepts & Innovation, Digital & Systems, Rolls Royce; John Lloyd, Chief Executive Officer, The Nautical Institute; Michael Parker, Global Industry Head for the Shipping, Logistics and Offshore industries, Citi; Guy Platten, CEO, UK Chamber of Shipping; Bob Sanguinetti, Chief Executive Officer, UK Chamber of Shipping; Chris Welsh MBE. Yilport Holding was announced as a finalist in the Port Operator category for the third consecutive year, finally winning the prize.
Yilport Holding targets to be ranked among the top 10 container terminal operators by 2025. Headquartered in Istanbul, Turkey, and active in 9 countries with 21 marine ports and 6 dry terminals, Yilport Holding is currently the 12th among the global container terminal operators, ranked by Drewry. The parent company YILDIRIM Holding also owns 24% shares of CMA CGM Group, the third largest container shipping company in the world.
Source: Yilport