The world's first hydrogen-electric ferry will be built by Norled. It will be put into operation in Rogaland, Norway in 2021.
According to a press release from the Norwegian shipping company, the Norwegian Public Roads Administration and Norled AS signed an agreement, on the construction of the world's first hydrogen-electric ferry. It must be put into operation on Hjelmeland route in 2021.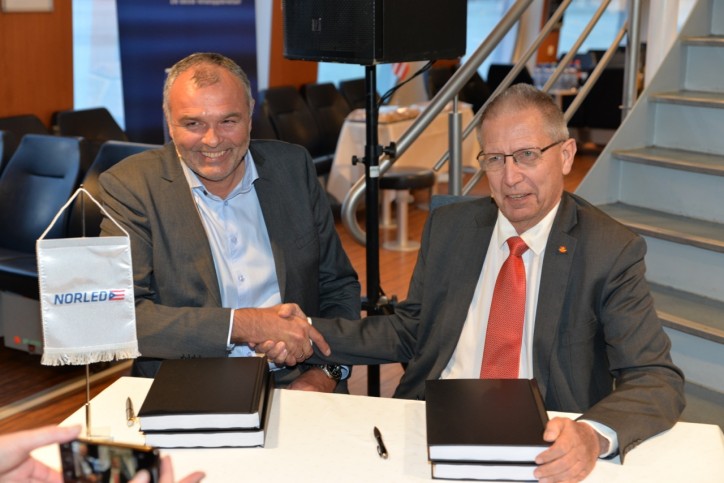 The development contract that Norled won in fierce competition with Fjord 1 and Boreal on the development, construction and operation of a hydrogen-electric ferry where at least 50 per cent of the energy requirement is covered by hydrogen.
"On behalf of Norled, I am both proud and humble to be a part of this pioneer project. We are looking forward to cooperating on another development project initiated by the Norwegian Public Roads Administration. This represents a green historical turning point for both Norled and the rest of the maritime sector," says Chairman Ingvald Løyning in Norled.
He adds that in 2015, Norled has proven that innovation and innovation across talented maritime environments is a success formula for creating a greener and more environmentally friendly ferry sector. Today, there are no comparable hydrogen-powered vessels in operation.
The ferry will connect the national road 13 between Hjelmeland - Skipavik - Nesvik in Rogaland from 2021. The ferry will have good capacity and can take up to 299 passengers and 80 cars.
Now it is Norled with their partners and suppliers that will carry the project on to operational operation in 2021.
"I'm impressed by the work done by the shipping companies and their partners. We've been offered three good solutions. The work has been extensive and many players are involved. The shipping companies' class companies, the Norwegian Maritime Directorate and the Directorate for Civil Protection and Emergency Planning (DSB) have been important players. The work has linked a lot of the latest in innovative, climate-friendly and future-oriented maritime technology," says Gustavsen.
Norway is already the world leader in zero and low emission technology. The Roads Director believes that the players have a good starting point when the next hydrogen projects will be launched around the world.
"The concept of the new hydrogen ferry is clear. In front of us, both development work and detailed planning await. I am confident that Norled will deliver a new innovative product that will be a green milestone with success for all parties involved," says Løyning.
Source: Norled