International sources say the ship has been cut in two at the Drydock World Dubai (UAE).
The heavy-lift vessel Xin Guang Hua will transport the 228.5-meter-long sound section, from midship to stern, to South Korean shipyard Hyundai Heavy Industries, where it would be rebuilt, in February. The section is expected to arrive at the shipyard in March 2019, where it would be rebuilt with a new forward section.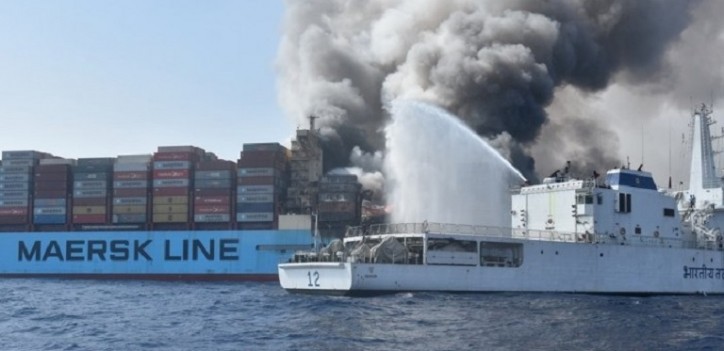 Meanwhile, the former forward section, including the accommodation block, is planned to be safely moored at Drydock World Dubai for continued removal of damaged containers and debris and is to be recycled, according to Maersk.
The 15,000 TEU boxship Maersk Honam was en route from Singapore to Suez, on 6 March 2018, when she sustained a serious fire in one of its cargo holds, southeast of Salalah, Oman, resulting in five dead crewmen and high costs in berthing and discharging operations of the surviving cargo.
On the aftermath of the accident, Maersk declared general average, which means that the surviving cargo has to pay a share of the cost for the vessel damage, the tow, clean up, legal settlements, etc.
Following the tragic incident, the company took measures and implemented additional preliminary guidelines for stowage of dangerous goods. Maersk evaluated over 3,000 UN numbers of hazardous materials in order to further understand and improve dangerous cargo stowage onboard container vessels and developed a new set of principles called 'Risk Based Dangerous Goods Stowage'.
The rebuilt ship is planned to resume operations in the second half of 2019.
Related news: Major fire on Maersk Line container vessel in the Arabian Sea; Four crew members missing 
Source: Safety4Sea