Croatia's troubled shipbuilder Uljanik has selected domestic shipyard Brodosplit as its strategic partner, the company informed the Zagreb Stock Exchange.
Uljanik said in the statement that it would conclude a contract with the partner on the arrangement of mutual rights and obligations, with the emphasis on the acceptable and viable restructuring program of Uljanik shipyard.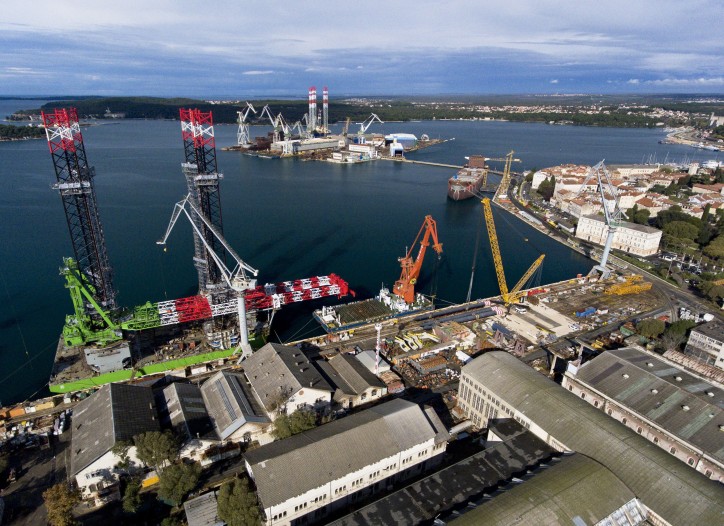 Croatian Minister of Economy Darko Horvat said on Thursday that according to the documents from the bidding phase, Brodosplit is solvent. He noted that it would be a serious problem if it turns out that the selected partner has no financial capacity for the restructuring of Uljanik.
Uljanik is Croatia's largest shipbuilder with two shipyards in Pula and Rijeka in the northern Adriatic. The company has financial troubles and for months it has been searching for a strategic partner that would invest in it.
In 2018, Uljanik's workers went on strike several times due to unpaid wages. They staged a protest in front of government building in the capital Zagreb, as well as protest walks in Pula.
"I am glad that the decision has been made because it is an opportunity for workers to settle all debts. The workers are on the brink of strength and patience and it was a question of a moment before Uljanik workers would leave the company which would mean the end of shipbuilding in Pula," union leader Boris Cerovac told national television HRT.
From Dec. 27 to Jan. 24, the management decided to open its "data room" and run a due diligence process for all potential investors and several of them submitted their bids. The company didn't reveal who are interested investors, but Brodosplit announced on Jan. 25 that it has made an offer for the restructuring in partnership with Italy's Fincantieri Group.
Tomislav Debeljak, president of the Brodosplit shipyard management board, later told reporters that the Brodosplit dock has shown that shipbuilding in Croatia can be positive and of good quality. "We have the will, know-how, desire, and management capacities to expand," Debeljak told reporters.
Debeljak is also the president of board of directors of DIV Group, one of Croatia's largest producers in the metal industry. After Croatia joined the European Union in 2013, Brodosplit yard was privatized and acquired by the DIV Group. Due to tough competition from Asia, Brodosplit Shipyard has changed its focus and in the last few years moved from producing bulk carriers and tankers to highly specialized vessels.
Source: Xinhua