Brunvoll has signed a contract with the Kongsberg Group on delivery of propulsion system to "Yara Birkeland". Brunvoll's delivery includes two pulling azimuth propellers for propulsion and two tunnel thrusters for maneuvering, all of which will gain power from an accompanying 6.8 MWh battery pack.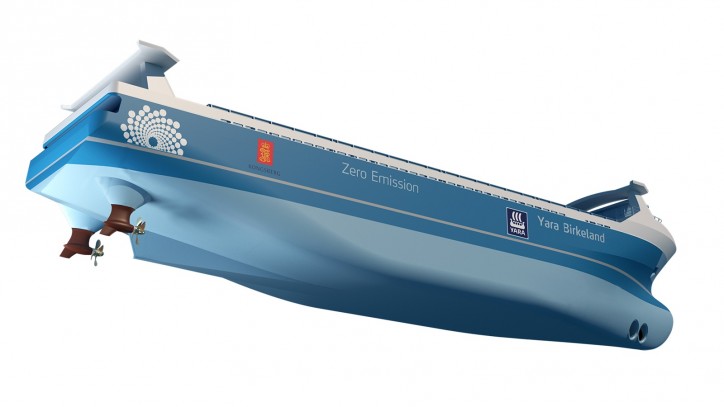 Fertilizer manufacturer Yara and the Kongsberg Group is behind this first autonomous ship of its kind in the world. Yara's goal of the project is to transport fertilizer by sea between its factory at Herøya and the ports of Brevik and Larvik. The vessel will reduce NOx and CO2 emissions by reducing diesel-powered truck transport by around 40,000 journeys per year.
The vessel YARA Birkeland will be the world's first fully electric and autonomous container ship, with zero emissions. However, after the ship is delivered and put into service by 2020, over a two-year period it will be tested with a limited number of crew before it becomes fully autonomous.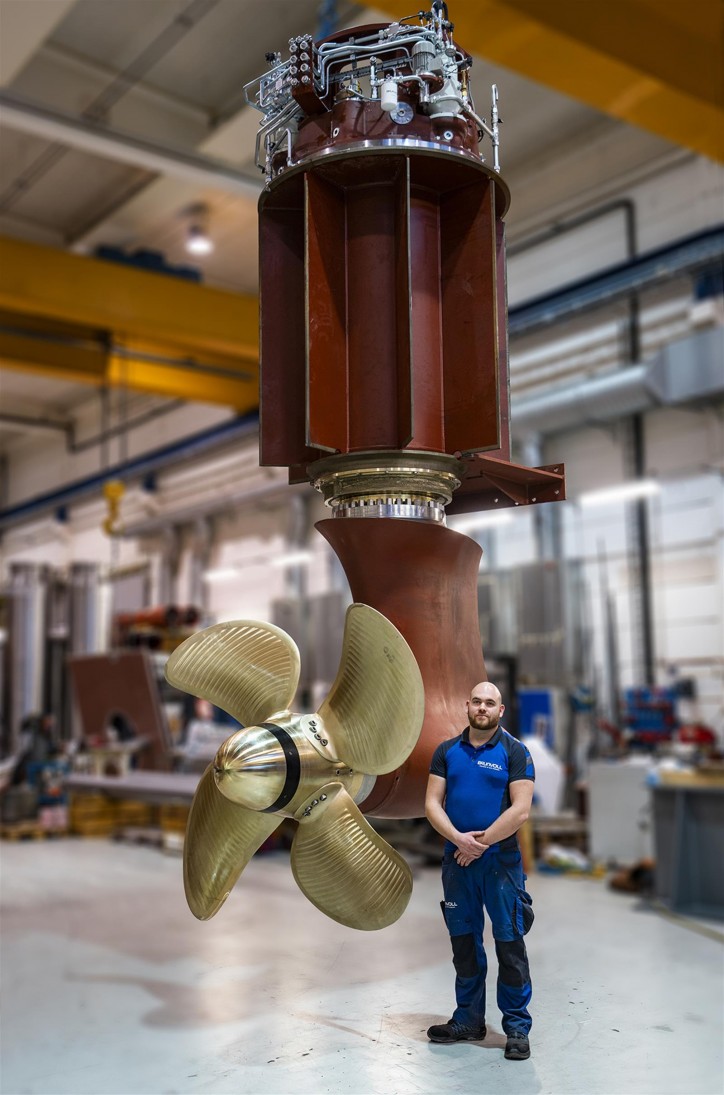 Brunvoll's delivery consists of two pulling azimuth thrusters of the type PU74, each of 900 kW and Controllable Pitch Propeller with a diameter of 2.2 meters, as well as two tunnel thrusters in the bow, of the type FU63, each 700 kW and 1.75 meters in diameter.
Great emphasis has been placed on achieving high efficiency both in the design with large slow-turning propellers and in the hydrodynamic design of the thruster.
"We are honored to have won this contract and it is a recognition of our capabilities" says Knut Andresen, Executive Vice President responsible for Product and Business Development at Brunvoll. The contract is a result of the investments Brunvoll is doing in innovation and development.
The Yara Birkeland contract was the second for this type of azimuth propulsion unit developed by the Molde based company. Brunvoll will also supply 10 such azimuth propellers to five ferries for Fjord1 which are currently under construction at Havyard's Shipyard in Leirvik.
Brunvoll also offers larger azimuth units with diameters up to 3.3 meters and a power of up to 3200 kW for main propulsion.
Brunvoll offers complete propulsion and maneuvering systems for ships with rudders and ships with azimuth thrusters. These systems include propellers, gears, azimuth and tunnel thrusters, rudder and steering machines, all complete with their automation systems, as well as electric drives and battery packs with control systems.
Photo 2: The two azimuth pulling thrusters from Brunvoll are of the type PU74 with CP propeller with a diameter of 2.2 meters and a power of 900kW each. In addition, there are two FU63 tunnel thrusters in the bow, each 700kW. Photo: Jørgen Eide / Brunvoll AS.
Source: Brunvoll