Operating in a water depth of 2,855m offshore of Malaysia, the Mærsk Deliverer in collaboration with Weatherford successfully deployed pressurised mud cap drilling as the optimal solution to drill the Tepat-1 exploration well for Total E&P Malaysia.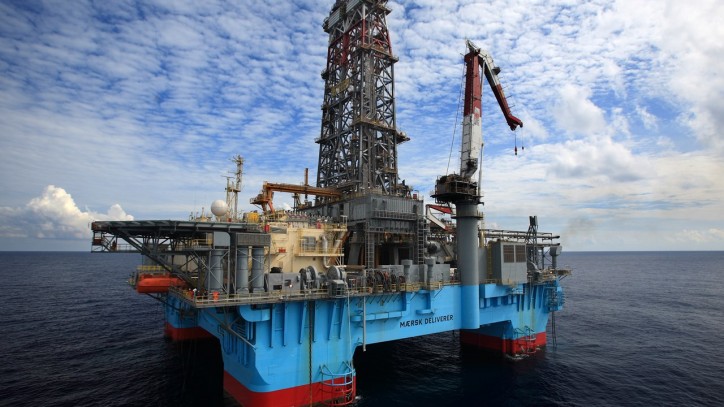 The operation was a success and set the record for the deepest water deployment of PMCD in the industry to date.
The Maersk Deliverer is a DSS-21 column stabilised dynamically positioned semi-submersible drilling rig, able to operate in water depths up to 10,000ft.
Main Specs:
| | |
| --- | --- |
|  Model |  DSS21-DP2 Semi-Submersible |
|  Type |  Self-Propelled A1 Column Stabilized Drilling Unit |
|  Maximum drilling depth |  32800ft/10000m |
|  Maximum water depth |  9840ft/3000 m |
|  Minimum water depth |  1640ft/500 m |
|  Max Hook Load |  2000k/lbs /907 Tons |
|  BOP |  18¾" 15,000 psi BOP system |
|  Handling system |  Dual pipe handling system with off line stand building capabilities |
|  Deck crane |  1 x 65 t rated Favelle Favco deck crane |
|  Knuckle boom crane |  1 x 165 t NOV Active Heave Compensated KBC |
|  Pipe handling crane |  1 x 3.5 t Pipe Handling Knuckle Boom Cranes |
|  Mud pumps |  4 x Wirth 14-P-2200, 7500psi HP single-acting triplex pumps |
|  Top Drive |  HPS 1000 rated for 7,500 psi and 2,300 hp |
|  Accommodation |  Single bed accommodation for 180 personnel |

Source: Maersk Drilling