King George V port in the heart of Glasgow has proved it is ready for anything, with the arrival of 18 warships as part of a major international military exercise.
The vessels arrived at the dock, part of Peel Ports' Clydeport complex, on Saturday in readiness to begin their role in Joint Warrior, one of the largest exercises of its type in the world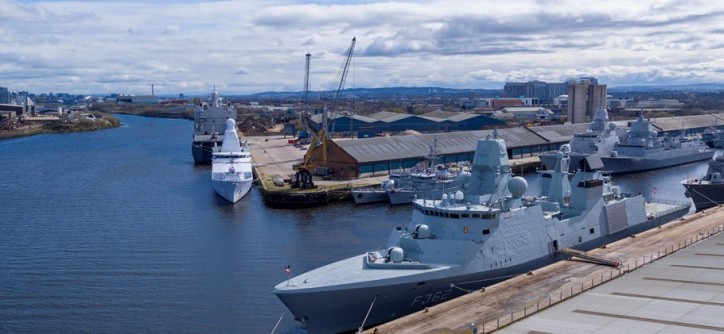 From 30 March 2019, more than 10,000 military personnel, 35 warships, five submarines and 59 aircraft and helicopters from 13 countries will take part over the two week period of the exercise.
Andrew Hemphill, Port Director, said: "The military like to test their readiness for the toughest challenges and so do we. Joint Warrior provides a great opportunity for us to do just that and we're glad to say that everything went very smoothly for such an exceptional event. We wish our armed forces the very best for the rest of the exercise."
Captain Chris Smith, Naval Regional Commander for Scotland and Northern Ireland, said: "The Royal Navy is proud to have such strong and long standing relationships with all Scottish sea ports and in particular Peel Ports on the Clyde.  Only a week prior to this Joint Warrior gathering, our very own HMS DEFENDER made its high profile return to its affiliate City and Peel Ports delivered once more, at what is a very popular port with sought after berths.  Now we see such an extensive array of NATO warships with supporting aircraft gathered on the Clyde once more ahead of the 2-week multinational (NATO) maritime exercise in the same week NATO turns 70! The Clyde and Peel Ports have the experience and 'know how' to provide the support necessary to accommodate this complex military group."
Peel Ports is a silver member of the Defence Employer Recognition Scheme and has signed the Armed Forces Covenant.
Former Navy Commodore Gary Doyle, who is now Peel Ports' Group Harbourmaster, said: "I'm proud to work for a company that recognises the risks and sacrifices made by those who serve their country, and supports them in strengthening our national defence capabilities."
The aim of Joint Warrior is to allow the UK's Royal Navy, Army, Royal Air Force and their allies to conduct joint operations involving different forces and units and against a range of current and future threats.
Although run by the UK, Joint Warrior is closely aligned to NATO training aims and is included in the NATO exercise programme.
The Exercise will be controlled and directed from the Maritime Operations Centre at Scotland's largest military establishment, HM Naval Base Clyde, with a range of air, surface, sub-surface, sea control and maritime security roles being rehearsed off the West Coast of Scotland.
The following nations are taking part in Exercise Joint Warrior: Belgium, Canada, Denmark, Estonia, France, Germany, Italy, Latvia, Lithuania, the Netherlands, Norway, Spain, the UK and the US.
Source: Peel Ports /Additional information about Port of Greenock (Glasgow, Scotland) at CruiseMapper/