Moving Fire Pump Vessel in France
In early January, a fire pump vessel (weighing 128 metric tons/measuring 24.9 x 6.9 x 3.3 metres) was to be shipped from Boulogne-sur-Mer to Toulon Brégaillon to be operated by Marseille Marine Fire Brigade Division.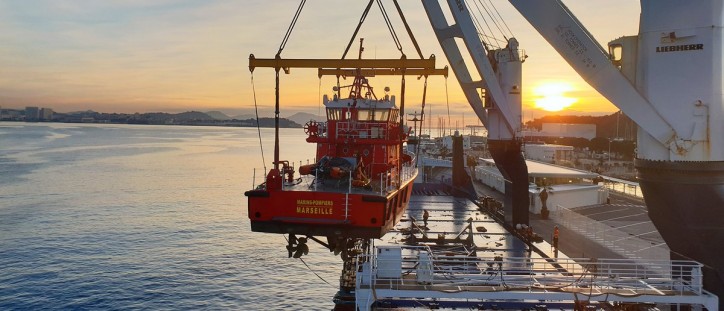 Blue Water's scope of the project included engineering, chartering of vessel, loading in Boulogne-sur-Mer, sea fastening and discharging in Toulon Brégaillon.  
"Due to careful planning and successful teamwork between Blue Water and SOCARENAM, the entire operation went as planned. This was the second shipment that we have arranged for SOCARENAM. The first one was in May 2018, and we hope for more to come", says Julie Tallec who coordinated the project at Blue Water's office in Marseille.
SOCARENAM has a long and solid experience in shipbuilding, ship repair and maintenance of all kinds of vessels. Since its establishment in 1961, more than 300 vessels have left the company's workshops.
Source: Blue Water