The first steel plate of a new Oasis-Class ship (hull 34) has been cut yesterday (Apr24) at Chantiers de l'Atlantique machining workshop.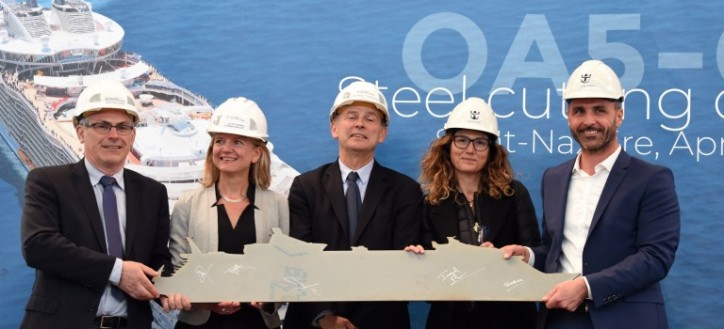 This ceremony marks symbolically the start of the construction of the third Oasis-class built by the shipyard, after Harmony of the Seas and Symphony of the Seas respectively delivered in 2016 and 2018.
Like her sister ships, the hull of the new cruise ship will be composed with about 400 000 machined steel parts.
Picture, from left to right :
Jean-Yves Jaouen, SVP, Operations, Chantiers de l'Atlantique
Florence Mauduit, Oasis contract director, Chantiers de l'Atlantique
Laurent Castaing, General Manager, Chantiers de l'Atlantique
Beatrice Siri, Associate Vice-president architectural design and outfitting, RCL
Joseph Pineau, Director New built project technical, RCL
Source: Chantiers-Atlantique (Additional information about Royal Caribbean fleet you can find at CruiseMapper)