The Royal Canadian Navy's second Arctic and Offshore Patrol Ship (AOPS), the future HMCS Margaret Brooke, is now structurally assembled at Irving Shipbuilding's Halifax Shipyard.
On Friday, May 3, the bow section of the second AOPS was transported on heavy lift transporters from inside the Halifax Shipyard's indoor shipbuilding facility outside to land level. Work will continue over the coming weeks to fully join the bow mega-block and its components to the centre and stern mega-blocks, which were transported to land level in September 2018.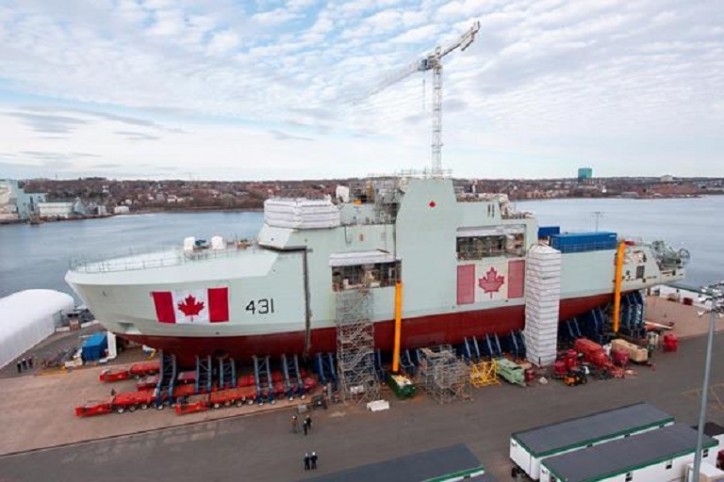 With all three sections of the second AOPS joined, further outfitting of the ship will continue. The future HMCS Margaret Brooke is scheduled to be launched in autumn 2019.
The 2,000 shipbuilders at Halifax Shipyard are currently hard at work building the first four of six AOPS for Royal Canadian Navy as part of Canada's National Shipbuilding Strategy.
The lead ship, the future HMCS Harry DeWolf, will be delivered to the Royal Canadian Navy in summer 2019, providing a new capability to Canada's brave sailors.
Steel cutting for the third AOPS, the future HMCS Max Bernays, started in December 2018, and construction of the centre and stern mega-blocks is well underway.
Construction of the fourth AOPS, the future HMCS William Hall, officially started yesterday, Friday, May 3, at Halifax Shipyard during a ceremony with the Honourable Harjit Sajjan, Minister of National Defence.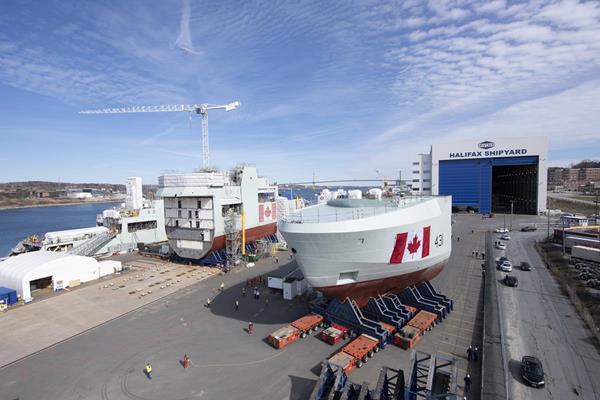 To date, Halifax Shipyard and its major subcontractors have more than $2.5 billion in spending commitments with over 250 organizations across Canada as part of the Halifax Shipyard's facility modernization and AOPS program.
Kevin McCoy, President, Irving Shipbuilding: "Transporting the bow mega-block and joining it with the centre and stern mega-blocks is a significant engineering feat and milestone for the Arctic and Offshore Patrol Ship program. With four Arctic and Offshore Patrol Ships in each major stage of construction and economic benefits being realized from coast to coast to coast it is clear the National Shipbuilding Strategy is working."
Source: Irving Shipbuilding Inc.