The PG Flow Solutions group has been tasked with supplying a complete fish handling system, including delousing system and fish transfer pumps, to the Hydro Pioneer delousing vessel.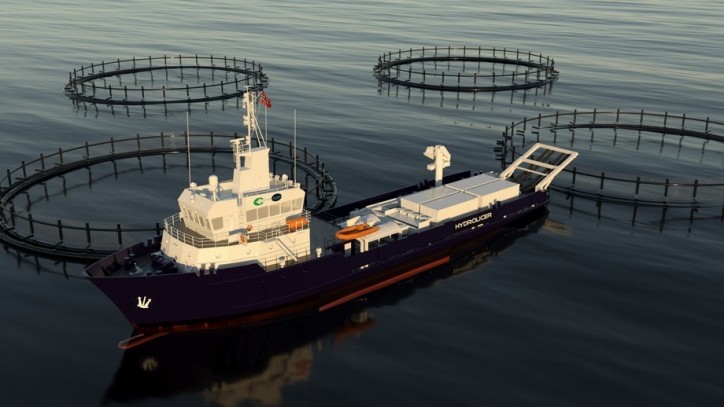 The contract will be executed as subcontractor to the Norwegian company Hydrolicer Production AS, which is behind the new shipowning company Hydro Shipping and will equip the Hydro Pioneer vessel with four complete Hydrolicer delousing systems. Hydro Pioneer is a 52-metre long platform supply vessel (PSV) which is being converted to a delousing vessel.
PG group companies Cflow Fish Handling AS and PG Flow Solution AS will together manufacture and deliver a complete delousing system, including a four-line PG HydroFlow fish pumping solution.
PG-HydroFlow is a pump system specially designed for transport of live fish. The pump system can be adapted to the capacity and length and height displacement the customer requires, without harm to the fish. PG-HydroFlow will be combined with the Hydrolicer system to ensure safe and efficient delousing of salmon.
"Our pump system is seawater-driven, has continuous flow and no moving parts internally. We dare claim that this is the industry's most gentle transport system for live fish, which in turn means increased income for fish farming companies that choose to utilise Hydro Pioneer's services," says Steve Paulsen, CEO of the PG Flow Solutions group.
PG Flow Solutions AS will assemble the four PG-HydroFlow pumps at the company's facility in Sande, Vestfold, Norway, and then transport them to Cflow Fish Handling's facility in Langevaag outside Aalesund, Norway.
Cflow Fish Handling will build the actual delousing and control system and assemble and install this in a container. As part of the assembly work, the company will install the fish pumps and integrate these with the delousing system, and then deliver the complete fish handling system to end-customer Hydrolicer Production AS.
"We are proud to be Hydrolicer Production's production partner on this and other projects. We have together built up a reputation for developing innovative products that ensure greatly improved fish welfare," says CMO Gunnar Hoff, co-founder and head of the fishery and aquaculture business areas at Cflow Fish Handling.
PG Flow Solutions provides proprietary solutions, systems and products for companies within the energy, maritime, aquaculture and land-based process industries. The heritage of the business is pumps and pumping systems. The company's headquarters and manufacturing facility is located in Sande, Vestfold, Norway. Its subsidiary Calder Ltd operates out of a similar facility in Worchester outside Birmingham, UK, while subsidiary Cflow Fish Handling AS operates out of Aalesund, Norway.
Source: PG Flow Solutions