Last week the BBC Amethyst anchored in Porto do Açu, Brazil. She is the first vessel to make the big crossing from Antwerp to the Brazilian sea port. Quite an achievement for Port of Antwerp International and the local partners who invested in the Brazilian port, thereby promoting trade with Antwerp. Brazil, the biggest economy of Latin America and number 7 in the world, is a key trading partner for the Port of Antwerp.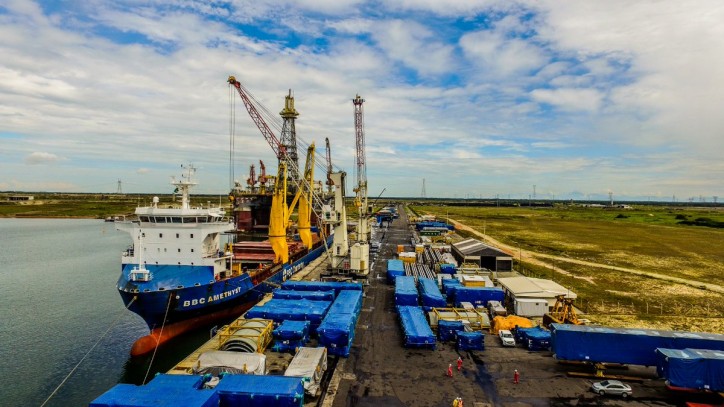 The first cargo?
A Siemens gas turbine, an essential component of the new thermoelectric power plant of GNA - Gás Natural Açu Ltda, which is a joint venture among Prumo (parent holding company Porto do Açu), BP and Siemens, aimed at converting LNG to electricity. With a 3 gigawatt capacity, the complex will provide around 14 million of households with electricity. The project is part of the largest LNG-to-power complex in Latin America, which is being built by GNA at Port of Açu. The company also has environmental license to more than double its size, reaching 6.4 GW of installed capacity, which will allow the development of additional thermoelectric projects in the future.
The gas turbine was first transported by barge from Mülheim, Germany, to the Katoen-natie terminal in Antwerp, where it was subsequently loaded into the hold of the BBC Amethyst, together with other bulky components. The project cargo then continued its journey towards Porto do Açu.
About Porto do Açu
Since 2017, Port of Antwerp International, a subsidiary of the Antwerp Port Authority, has been a shareholder of and long-term consultant to the Port of Açu, which is strategically located in the south-east of Brazil close to the major markets: Rio de Janeiro, Espirito Santo and Minas Gerais. Porto do Açu is an active private port, developed by Prumo Logistica which specializes in sustainable projects. The new LNG power plant illustrates that ambition.
Tessa Major, Commercial Director of Porto do Açu, about Antwerp and Açu: "Both our ports have deep expertise in breakbulk cargo and they both aim for sustainable growth. The fact that the first cargo is project cargo for a sustainable energy project is really the cherry on the cake. We hope this successful case will in the near future lead to many more cargo streams between Antwerp and Açu."
Ties with Brazil
Antwerp and the Brazilian ports mutually ship around 6.2 million tonnes of goods each year.  Imports from Brazil consist mainly of agri-commodities like coffee, meat, fruit, wood, tobacco and steel products. The latter are also shipped as breakbulk. Conversely, Europe exports primarily malt, fertilizers, chemicals and potato products via Antwerp to the Brazilian market. The collaboration with Porto do Açu will strengthen ties between Port of Antwerp and the Brazilian market.
Together with Port of Antwerp, Porto do Açu is participating in Antwerp XL, the first edition of an international breakbulk trade show and conference in Antwerp. Breakbulk shippers and logistic service providers from all corners of the world will meet there from 7 to 9 May.
Source: Port of Antwerp