On May 9th, Thun Tankers took delivery of the 18,650 deadweight product tanker Thun Lidkoping. This L-Class vessel is the first in a series of five resource efficient, high-quality tankers built by Avic Dingheng Shipbuilding Ltd in China.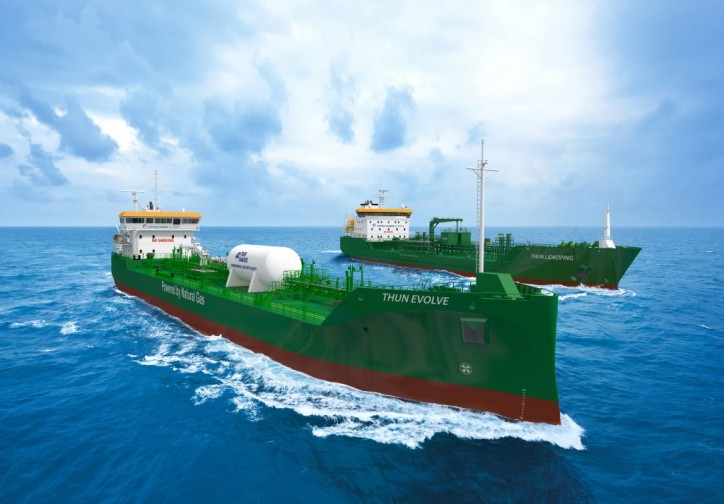 On the same day, the 8,000 deadweight Thun Evolve was delivered to Thun Tankers by Ferus Smit BV in the Netherlands. The dual fuelled vessel, that will use natural gas or biogas as fuel, is the second in a series of four ordered E-Class tankers. The Shipyard Ferus Smit has previously built 33 efficient quality vessels for Erik Thun.
Both the L-Class and the E-Class tankers have been designed and developed in-house, using Erik Thun's long experience of building sustainable, high-quality vessels. Focus on environmental care, new regulations and customers' needs has been key in the design and building process of both vessel types. The new tankers will enter into the Gothia Tanker Alliance network with crewing and technical management done by MF Shipping Group.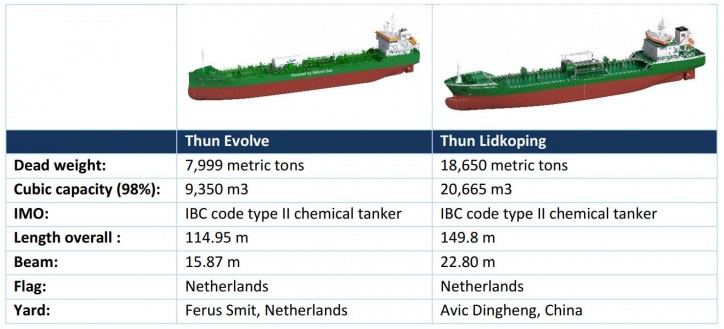 "It is a historic day for our company with the delivery of both Thun Lidkoping and Thun Evolve on the same day. With the E-Class and L-Class series in trade, we are further strengthening Gothia Tanker Alliance' possibility to serve our clients with climate smart tankers in the right position at the requested time" – Joakim Lund, CCO Thun Tankers

"These new tankers are part of our next generation purpose-built and efficient vessels enabling us to remain a sustainable Swedish partner over generations" – Johan Källsson, Managing Director at Erik Thun Group
Source: Thun Tankers