At the end of April, the Port of Riga opened the 2019 cruise season when the 300 m cruise ship MSC Poesia entered the port. MSC Poesia (see also CruiseMapper) is owned by the cruise line MSC and brought more than 2,500 tourists to Riga during its Baltic cruise. The 10 day cruise started in Warnemünde, Germany, and had already had stops in Poland and Lithuania. From Riga, the ship continued on to Tallinn, St. Petersburg, Helsinki, Stockholm, and Copenhagen.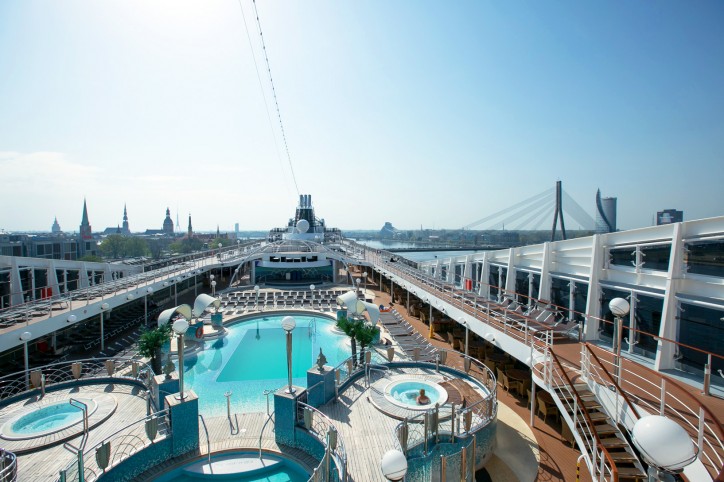 This was the first time the MSC Poesia docked in Riga. When a ship makes its virgin entry into the port, the captain and representatives of the Freeport of Riga Authority exchange ship and port emblems. This time was no exception.
Lauro Maresca, the captain of the vessel, was happy with the port and the city: "This is my first visit to Riga, but I was surprised by what I saw from the captain's deck. Riga seems to be an extremely beautiful city. Technically, everything was excellent, too. We had very good cooperation with pilots and the captains' service. I am convinced that our passengers will enjoy Riga and that we will return here many more times!" During this season, the MSC Poesia cruise ship will enter the Port of Riga four times.
Arrival of large cruise ships definitely boosts development both of the city and the port. The MSC Poesia brought more than 2,500 passengers and approximately 1,000 crew members to Riga. In comparison, the carrying capacity of this ship exceeds the total population of the Dundaga municipality. The MSC Poesia is almost 60 metres tall and boasts 16 decks. Thus, she is taller and larger than most buildings in the city.
As the global cruise sector grows, Baltic cruises also become ever more popular. In its Development Programme 2019-2028, the Freeport of Riga made a commitment to transform Riga into an important cruise and passenger ferry port for the Baltic region and to ensure that our city is included in the routes of all major cruise shipping lines. Last year, the Port of Riga served 75,000 cruise passengers, however, in the next 10 years this number should be doubled to 150,000 passengers and 150 vessels per year. In 2019, 85 cruise ships are expected to arrive at the Port of Riga.
Source: Port of Riga (Additional information about the Port of Riga at CruiseMapper)