Agriculture businesses in the East of England are set to benefit from a new deal between Peel Ports – operators of Great Yarmouth port – and global trader and supply chain leader ADM Agriculture.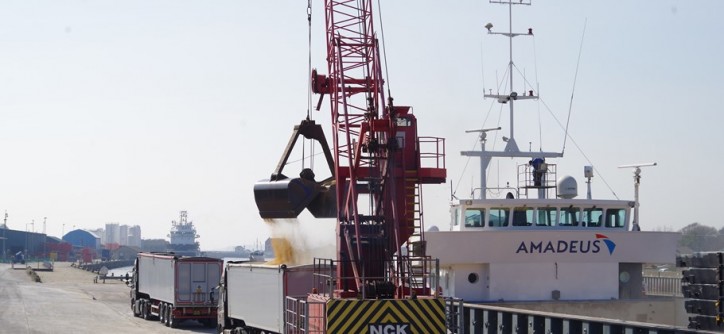 ADM Agriculture has been formed by the merger of ADM Arkady, ADM Direct.and Gleadell, who have been a long term tenant of Great Yarmouth Port exporting Norfolk farmed produce to the continent and beyond.
Following on from the merger Great Yarmouth Port has in April successfully received the first import vessel of animal feed, to service local markets near the port in the farming and fertiliser community. Norfolk in particular has a large agricultural sector with high demand for animal feed (primarily driven by pig and poultry farming).
ADM Agriculture currently have four bays within a state of the art bulk warehouse adjacent to the deep water Outer Harbour with a potential expansion site of a further four acres. The Outer Harbour boasts 10 metres of water at CD and a small 2 metre tidal range meaning the port can accommodate large bulk vessels at all states of tide, opening up new supply routes into the east coast for the company. Lifting operations are supported by a new Liebherr LHM280 Crane with grab capability.
Graham Atkinson, Joint Managing Director, ADM Agriculture said: "The combination of Peel Ports' locations and service with our product range is great for our end customers in agriculture. The reach and efficiencies we're now achieving means we can offer even better value, helping UK food producers to succeed."

Mark Whitworth, CEO Peel Ports Group, said: "We're building a long-term partnership with ADM, one that now extends to Great Yarmouth in addition to  two of our other ports. Our network means we're uniquely well placed to provide access to the most important markets in the UK,."
As well as agribulk, Peel Ports Great Yarmouth supports a number of industries including offshore, renewables, decommissioning, bulks and project cargo.
Peel Ports has already invested £12 million at the port since taking over in late 2015, including an outer harbour expansion, creating a 120,000 m2 offshore supply base for companies such as Scottish Power Renewables East Anglia One wind farm.
In addition Great Yarmouth has 100,000 m2 of existing storage land and berthing space, alongside taking delivery of a new materials handler for its River operations and a pilot boat named Horatio following a competition open to local primary school students.
Source: Peel Ports (Additional information about the Port of Great Yarmouth at CruiseMapper)