ABS will class an innovative new self-elevating platform with a unique triangular mono column design from Calm Oceans Pte Ltd.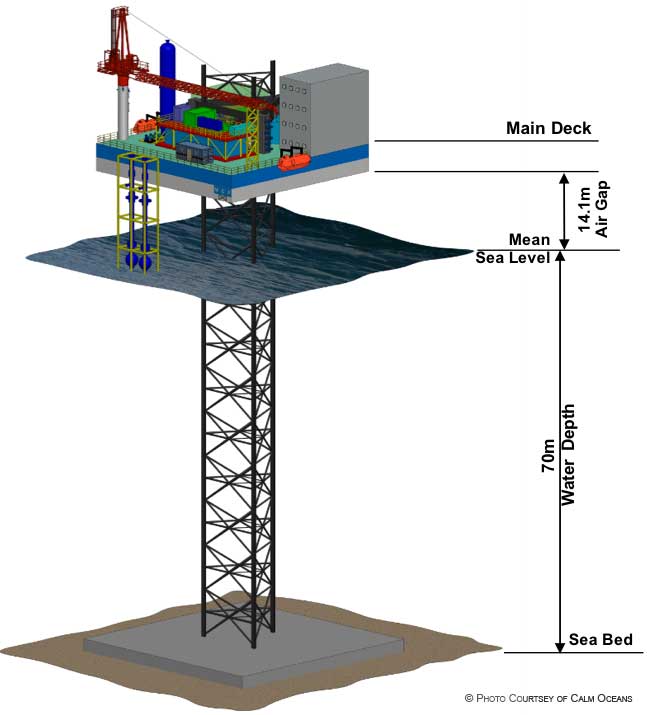 The Mono-Column Platform-Lite (MCP-Lite), capable of operating in depths of up to 70m, is equipped with a water injection module. A self-installing, mat-supported jack-up, consisting of square hull and trussed column with living quarters and man-riding cranes.
"As the world's leading offshore classification organization, ABS is committed to supporting the industry in the development of technologies that advance safety and operating efficiency," said Matt Tremblay, ABS Senior Vice President, Global Offshore. "We have a long history of supporting innovation in the offshore sector and are proud to include this project among some of the industry's notable achievements."
Calm Oceans describes the platform as being designed to service facilities operating in the Malaysian oil fields and featuring numerous advantages over traditional jack-ups. The single column design means the unit does not require pre-loading, resulting in more efficient operation and reduced risk during installation and jacking operations. It is also optimal for operating on the soft sea bed typical of the region as the large mat provides better foundation support and mitigates punch through risk. The usable deck area is larger than a conventional three or four legged jack-up of the same size.
ABS will provide classification services for the water injection module and the platform, which is expected to achieve the ✠ A1, Self-Elevating Unit notation.
"The design, engineering, procurement and fabrication undertaken by Calm Oceans makes it possible to fast-track the delivery of the project in 10 months," said Mr. Brian Chang, Calm Oceans Chairman and Chief Executive Officer. "Having ABS as our strategic partner, we are confident that we shall deliver this project expeditiously and successfully."
Source: ABS