Three workers died and three others injured after inhaling toxic gas at a shipbreaking yard in Chattogram's Sitakunda Upazila yesterday.
The workers died in MT Atlas, a crude oil tanker weighing around 27,450 tonnes, at MAK Corporation shipbreaking yard around 12:45pm.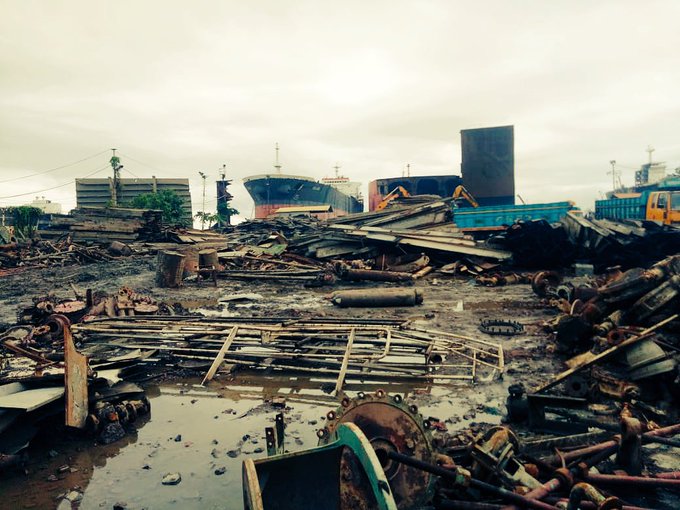 The police official said the three, along with other workers, were cutting the pipe in the engine room of the ship. They breathed in the toxic gas and died on the spot when it spurted from the pipe.
Tofazzal Hossain, an inspector of the Explosives Department in Chattogram said that they issued a letter to the MAK Corporation shipbreaking yard 15 days ago asking not to cut the pump and engine rooms without cleaning the ship properly. 
"Almost all the shipbreaking yard owners don't comply with our instructions. Every scrap ship has 15 to 20 tanks full of oil as its engine needs to be operational to beach the ship. So, we issue such an instruction, but most of the time it goes in vain," he said.
He added that as the shipbreaking yards are under the industries ministry's supervision, they do not have any executive power to take actions against them.
A worker who was working with the victims said the workers wore helmets, but did not have any gas masks.
Seeking anonymity, he said the authorities always showed reluctance to provide workers with safety gears as it slowed down their work pace.
Muktadir Hasan, assistant director (Chattogram region) of the Department of Environment, said when the workers entered the engine room and started cutting the pipe, the gas leaked.
The DoE will investigate the incident, he said.
Ali Shahin, a programme coordinator of Young Power in Social Action (YPSA), which oversees the accidents involving shipbreaking, said at least 12 workers died until July this year. Last year, the death toll was 20.
Frequent accidents prove that owners of shipbreaking yards are reluctant to ensure workers' safety, he said.
With yesterday's three, some 12 workers died at the MAK Corporation shipbreaking yard since 2009.
Master Kashem, the owner of the yard, claimed that the workers were equipped with safety gears and were well trained. "This is nothing but an accident."
The vessel was built by an Indonesian company in 1989. The MAK Corporation bought it from a UAE-based company in May this year.
Source: The Daily Star