Turkey has become the European go-to place for small chemical/product carriers with Marineline coating. A perfect example is the series constructed at Eregli Shipyard, part of the Med Marine shipping group
Med Marine is a Turkish shipping group closely linked to the Hakim Sen family, and well known for tug and tanker design, shipbuilding and shipmanagement. The tanker ownership and management side grew out to the financial hardships suffered by the whole of the shipping industry in the Financial Crisis of 2007 and beyond.
In this respect the shipbuilding sector of the Med Marine group, Eregli Shipyard and its associated companies, was hit hard by the withdrawal of bank financing to owners with tanker newbuildings on order at Eregli. Unable to complete delivery, the yard was facing closure. Rather than closing the yard, Med Marine choose to build out the tankers created a new team, YMN Tankers, to commercially manage the tanker fleet.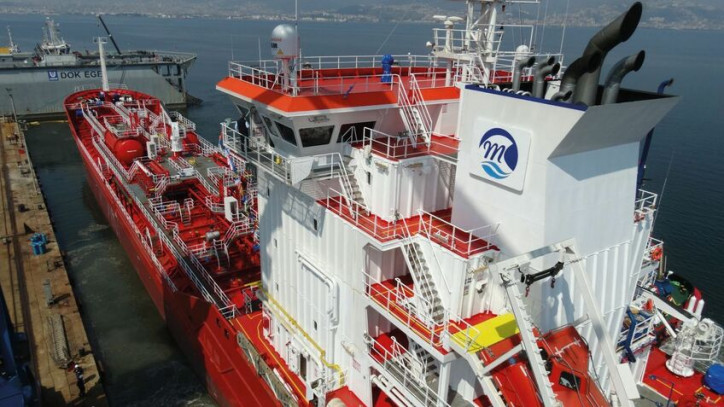 Today, the Med Marine group has nine small chemical / product tankers controlled through holding company, Sea Tankers, and commercially managed by YMN Tankers.
A series of three 8,500 dwt tankers have been delivered from the Atlas Shipyard. This group comprises a pair of chemical / product tankers, Med Tuncer and Med Pakize. A slightly shorter sister tanker, Med Emre was also launched this year.
YMN Tankers commercially managed each tanker immediately after delivery until they have been inspected by the Ship Inspection Report (SIRE) and Chemical Distribution Institute Inspections (CDI) are completed. Then the company opens the newbuilding for charter on the open market.
Med Tuncer is now on charter to Uni-Tankers of Denmark. The vessel is a single screw, double hull chemical / product carrier has 12 cargo tanks and two on-deck slop tanks and is capable of carrying large range of liquid cargoes, petroleum products and vegetable oils.
Cargo tank capacities:
Tanks 1 port and starboard = 814.25 m3
Tanks 2 port and starboard = 779.86 m3
Tanks 3 port and starboard = 783.43 m3
Tanks 4 port and starboard = 824.65 m3
Tanks 5 port and starboard = 695.72 m3
Tanks 6 port and starboard = 670.70 m3
Tanks slop port and starboard = 101.65 m3
Total = 9,268.53 m3
The cargo area is divided into the 12 cargo tanks by means of oil-tight corrugated transverse bulkheads and longitudinal bulkhead on the centreline. Marineline cargo tank coating has been applied to all cargo tanks. Each cargo tank has a Framo type SD 150 hydraulically driven, single stage, submerged deep-well pump with the capacity 350 m3 per hour. Additionally, two Framo hydraulically driven submerged deep-well pump, type SD 100s, are supplied for each slop tank with 100 m3 per hour.
Framo also supplied the portable cargo pump, the ballast pump and control system and the draft measuring gauge. The tanks are controlled by 14 stainless steel W&O cargo valves, allowing up to 14 cargo separations. The PV valves are supplied by BAY Valves of Denmark and the valves are controlled by a BESI Marine Systems of Germany remote control system.
Cargo control monitoring system is achieved by Scanjet of Sweden intelligent tank management systems , which also provides the fixed tank cleaning machinery, the portable tank cleaning machine, and the gas-freeing fan. There is also Nederman Norclean system for the cargo super-stripping system. This is a heavy duty compressed air powered unit that can collect various types of liquids both in different viscosities and flammable, over long lifting heights and horizontal lengths. A Gazcon (Atlas Copco) inert gas generator supplies the inert gas blanket.
Ullage assessment, temperature verification and oil/water measuring is conducted by a Honeywell Tanksystem's HERMetic portable gas tight liquid level gauge. Consilium of Sweden have supplied the gas detection equipment.
Med Tuncer is equipped with a Rivertrace Engineering (RTE) oil discharge monitor has a simulation operating mode to aid demonstration to the appropriate Port State Control (PSC) and has been designed to provide means of monitoring, recording and controlling the ballast discharge in accordance with the requirements of MEPC 108(49).
The main engine on all the sister ships is a Caterpillar / Maschinenbau Kiel GmbH (MaK) 8M32C type producing 4,000Kw at 600 rpm, which is fitted with a DEC exhaust catalytic converter. The fuel consumption is 177g / kWh at 85% output at 14 knots and the main engine is supplied fuel through Westphalia purifiers. With a heavy fuel oil tank of 501.01m3, Med Tuncer has a cruising range is approximately 5,000 nautical miles. The medium speed diesel is connected to the Atlas Copco compressors, which also supplied the air receivers and the air compressor for the cargo stripping system.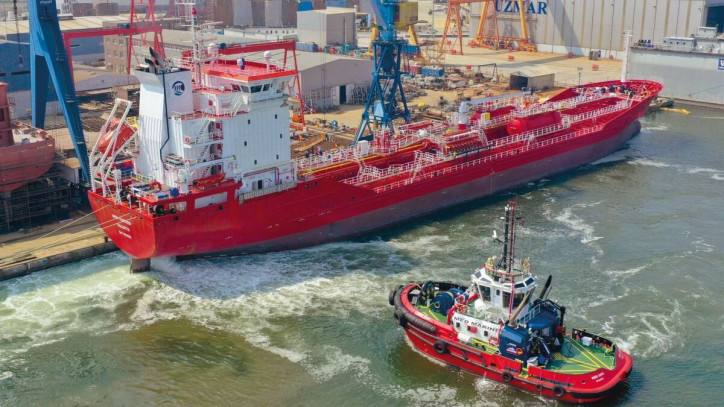 The propeller is supplied by ZF and is KH-1200-type propeller rated at 4,000 Kw at 600 rpm with the diameter of 4,500 mm. The propeller is of 4-bladed type, made of nickel-aluminium-bronze and controllable pitch type. Rolls Royce supplied the steering gear and Med Tuncer is also fitted with a Schottel bow thruster.
Auxiliary power is supplied by one AVK synchronous three phase reversible shaft generator rated at 1,499 kVA, and three auxiliary electric generators of 585 kW rated at 31.25 Kva at 1,800 rpm. There is also an emergency generator.
The accommodation area is arranged for 17 personnel and one pilot. There are some single berth cabins available, and YMN Tankers remarks the accommodation is designed in such way to ensure good insulation, noise reduction and comfortable habitability to the crew.
Heinen & Hopman of the Netherlands have supplied the heating, ventilation and air-conditioning in the accommodation and Holland Marine the sewage system.
On the bridge Japan Radio Company (JRC) is the main supplier of the navigation and tracking systems, including the radar, GPS receivers, Navtex, autopilot, echosounder, AIS , weatherfax, ECDIS, and voyage recorder. Phonetec provides the bridge radios, ship-wide broadcast and hand-held systems. The bridge itself was designed to have Ensar floating floor and walls for ease of access to communication and electronics cables and is equipped with Wynn window wipers.
On the deck, the anchor and chains are Yapas coupled to SEC mooring winch and windless. The safety equipment consists of a freefall lifeboat from Euro Offshore sitting on a davit built by Gürdesan. Euro Offshore also supplied the rescue boat that sits on the deck.
Overall, Med Tuncer has the safe formula that appeals the charterers of proven Marinline tank coating coupled with high quality Scandinavian cargo handling equipment in a reasonably-priced Turkish-built vessel.
MED TUNCER DIMENSIONS:
Length overall 123.90 m
Length between perpendiculars 116.27 m
Breath moulded 17.20 m
Height from keel to mast 36.62 m
Depth moulded 9.20 m
Draft ballast 4.83 m
Distance from bow to centre manifold 61.61 m
Distance from stern to centre manifold 54.71 m
Cargo tank capacity 8,923.27 m3 (98%)
Slop tank capacity 183.20 m3 (98%)
Ballast tank capacity 3,782.96 m3
Source: Riviera