The Sevmorput, nuclear-powered LASH carrier / container carrier has moored at the Seroglazka terminal (Norebo holding, Kamchatka Territory). According to the press center of the regional government, the ship will deliver fish caught by Kamchatka producers to Saint-Petersburg by the Northern Sea Route.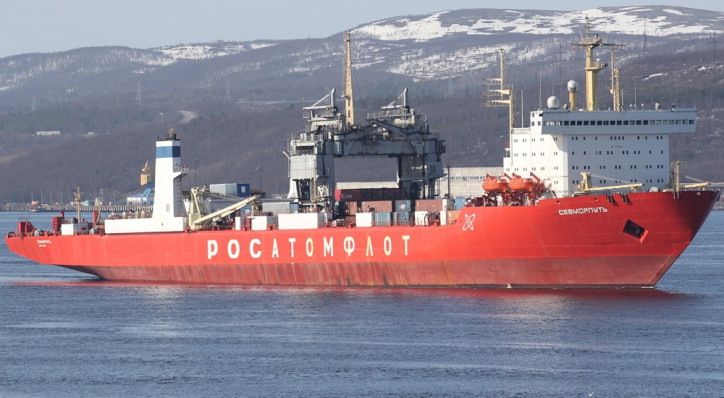 "For many years, we have been speaking about the use of the Northern Sea Route for transshipment of cargo to the countries of the Asia-Pacific region. The call of the Sevmorput ship confirms our transition from something on mind to something in kind, the port of Petropavlovsk-Kamchatsky is becoming one of the end points of the Northern Sea Route. The test voyage of the ship gives hope for regular supplies", said the Kamchatka Territory Governor. 
The Sevmorput will take onboard about 5,000 tonnes of fish products.
The transition to the Petrolesport terminal will take up to three weeks.
According to Vladimir Valter, General Director of Seroglazka Terminal (Norebo holding), two voyages to Saint-Petersburg and back have been planned for 2019. Regular operation of the Sevmorput at this line is under negotiations. 
The nuclear-powered icebreaking combo LASH carrier / container ship Sevmorput (named after the Northern Sea Route) was built at Kerch, USSR based Zaliv Shipyard. The Sevmorput was laid down on November 2, 1984, launched on February 20, 1986 and put into operation on December 31, 1988.
Source: PortNews