The world's largest container ship MSC Gulsun made its maiden voyage from Asia to Bremerhaven and she is currently headed to APMT2 terminal at Maasvlakte 2 in Rotterdam. The new Bremer Hafen Senator Claudia Schilling (SPD) welcomed the 400-meter-long and 61.5-meter-wide giant on Monday in the port city.
The "MSC Gülsün" of the Swiss shipping company Mediterranean Shipping Company (MSC) called Kaliningrad, and is currently en route to Rotterdam, before it returns to China.
Last known position of MSC Gulsun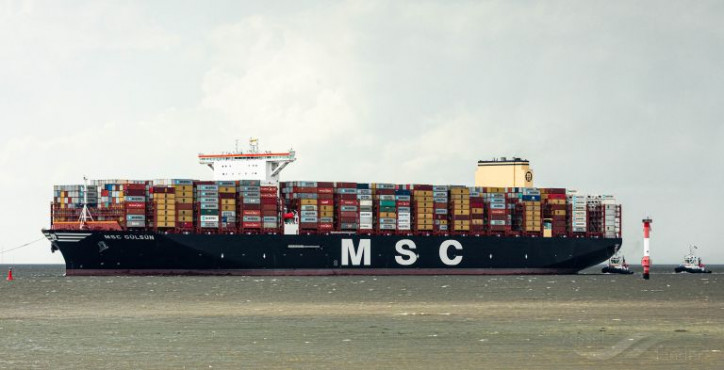 The 400 meter long and 61.5 meter wide ship can carry 23,756 standard containers (TEU), including 2,000 refrigerated containers. So far, the largest container ships accounted for around 23,000 TEU.
European ports are pushing ahead against ever larger container ships because they would have to invest a lot in new quay facilities and deeper and wider fairways. Associations are calling for EU requirements that in the future no ship should be allowed to call at the European ports, which is larger than the previous fleet.
The "MSC Gülsün" was built in South Korea. Ten sister ships to be put into service by 2020, as the company reported. Five are the same size, five more 100 TEU smaller. Thanks to a new design of the bow, the ship has reduced hull resistance, minimized air resistance and was therefore particularly energy efficient.
MSC has already reduced its climate-damaging CO2 emissions per tonne of freight transported by 13 percent between 2015 and 2018. Measured per ton of cargo, container ships are one of the most environmentally friendly modes of transport, MSC said - better than planes, trains, trucks and barges. With 520 ships and 70,000 employees in 155 countries, MSC is one of the largest shipping companies in the world.