The storm is expected to be strengthened from warm waters, while it is on track to hit Grand Bahama island on September 1, and possibly crash somewhere along the Florida or Georgia coasts around September 2 morning.
As it is four days out, the range of possible landfall spots is varying, from the Florida Keys to southeast Georgia. The center could pause at sea shortly before landfall, leaving its outer bands to drench much of Florida with lots of rain.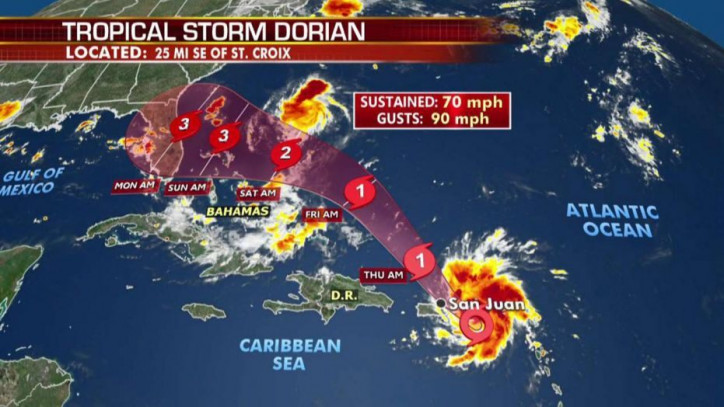 The regions that will feel the impact of the hurricane in the US will feel tropical-storm force winds of at least 39 mph, as from August 31 evening.
Every county in Florida is now under a state of emergency as the state prepares for what may be the strongest hurricane to hit its east coast in nearly three decades. Specifically, at 105 mph, hurricane Dorian is considered as the strongest storm of the Atlantic hurricane season so far.
According to CNN, if the hurricane makes landfall as a Category 4 storm on September 2 as forecast, with sustained winds of around 130 mph, then it will be the strongest hurricane to strike Florida's East Coast since 1992. By August 29, Dorian was a Category 2 storm.
2019 will be the fourth year in a row of a hurricane of any strength hitting Florida, which is the most years in a row since the 1940s.
As the hurricane approaches, Gov. Ron DeSantis declared a state of emergency for all 67 Florida counties. The state currently has 819,000 gallons of water and 1.8 million meals ready for distribution, as he informed.
After hitting the British and US Virgin Islands, as well as drenching Puerto Rico with rain, Dorian was moving northwest in the Atlantic.
Source: Safety4Sea