The United States Department of Treasury announced that it blacklisted the Iranian Oil Tanker Adrian Darya 1, along with its captain. The vessel has been in the middle of disputes as it was released from detention off Gibraltar about five weeks after it was seized suspected of breaching EU sanctions by shipping oil to Syria.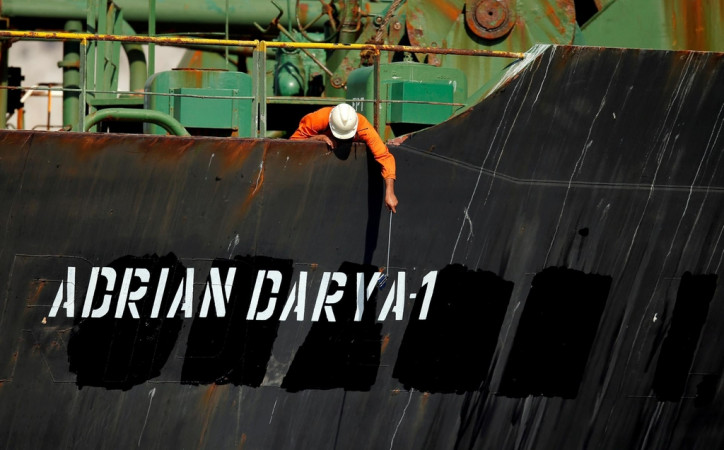 Sigal Mandelker, Under Secretary for Terrorism and Financial Intelligence stated:
Vessels like the Adrian Darya 1 enable the IRGC-QF to ship and transfer large volumes of oil, which they attempt to mask and sell illicitly to fund the regime's malign activities and propagate terrorism.
He further added that anyone providing assistance to the vessel faces risks of being sanctioned. According to the Department, the vessel was transmitting 2.1 million barrels of Iranian crude oil.
Moreover, the officials informed that the vessel is now 'blocked property' pursuant to Executive Order (E.O.) 13224, which targets terrorists and those providing support to terrorism or acts of terrorism.
Recent ship tracking data showed that the ship was currently between the coasts of Turkey and Cyprus, heading west.
Last known position of Adrian Darya 1
As a result of today's action, all property and interests in property of these targets that are in the United States or in the possession or control of U.S. persons must be blocked and reported to OFAC.  OFAC's regulations generally prohibit all dealings by U.S. persons or within the United States (including transactions transiting the United States) that involve any property or interests in property of blocked or designated persons.
In August the vessel was renamed from 'Grace 1' to 'Adrian Darya' and is now under the Iranian flag. The US had already warned of the impacts of providing assistance to the vessel.
Source: Safety4Sea
Related news:
August 27: World's Most-Watched Tanker Adrian Darya 1 Changes Course Off Turkish Coast