At least five people were killed as the Hurricane Dorian pounded the Bahamas on Monday, causing vast floodings and evacuation of more than one million people in US coast. The hurricane has weakened slightly and is now a Category 4 storm as it continues to spin over the Bahamas. The US National Hurricane Center said the storm is still stationary just north of Grand Bahama Island, but will move 'dangerously close to the Florida east coast'.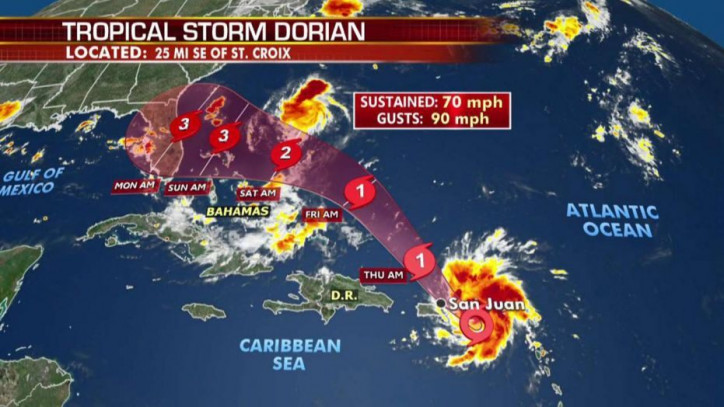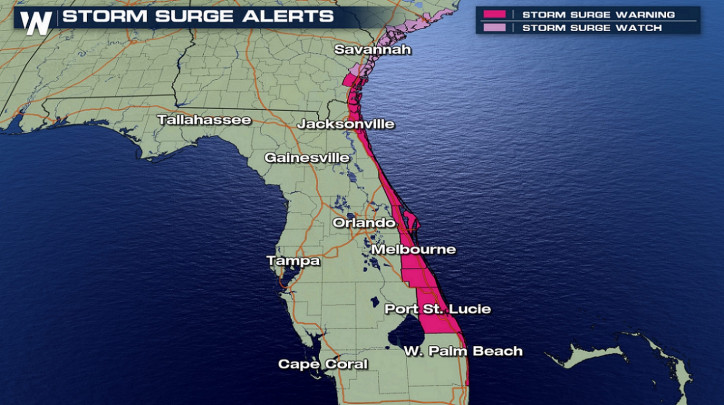 On this track, the core of extremely dangerous Hurricane Dorian will continue to pound Grand Bahama Island today. The hurricane will then move dangerously close to the Florida east coast late today through Wednesday evening, very near the Georgia and South Carolina coasts Wednesday night and Thursday, and near or over the North Carolina coast late Thursday, the NHC mentions in its latest update.
Dorian, one of the most powerful Atlantic hurricanes on record, had been hovering over Grand Bahama Island for almost 40 hours by Monday night and was expected to stay put until at least Tuesday morning, according to data provided by NHC.
There have been several injuries reported in the Marsh Harbour area in Abaco Islands, Bahamas, according to Hope Town Volunteer Fire & Rescue, local media report.
Dorian has slowed to a crawl in terms of speed of movement only moving at west-northwest at about 1 mph (2 km/h).  This means that the Bahamas will continue to get lashed by this monstrous storm and the amount of rainfall totals for the area continue to grow, he US NOAA informed.
In its latest updated advisory, the National Hurricane Center (NHC) said that the eye of the hurricane has begun to wobble a bit over Grand Bahama Island.
NHC advised residents not to leave shelters until the eye of the hurricane passes.
Dorian caused disruption to several cruise ships' routes in the last few days to avoid the Tropical Storm.
The US Coast Guard has provided the following recommendations as the hurricane approaches Florida coast:
Stay off the water: The Coast Guard's search and rescue capabilities degrade as storm conditions strengthen. This means help could be delayed. Boaters should heed weather watches, warnings, and small craft advisories.
Evacuate as necessary: If mandatory evacuations are set for an area, the public should evacuate without delay. Coast Guard personnel and other emergency responders may not be able to evacuate or rescue those in danger during the storm.
Secure belongings: Owners of large boats are urged to move their vessels to inland marinas where they will be less vulnerable to breaking free of their moorings or to sustaining damage. Trailer-able boats should be pulled from the water and stored in a place that is not prone to flooding. Those who are leaving their boats in the water are reminded to remove electronic position indicating radio beacons (EPIRBs) and to secure life rings, life jackets, and small boats. These items, if not properly secured, can break free and require valuable search and rescue resources be diverted to ensure people are not in distress.
Stay clear of beaches: Wave heights and currents typically increase before a storm makes landfall. Even the best swimmers can fall victim to the strong waves and rip currents caused by hurricanes. Swimmers should stay clear of beaches until local lifeguards and law enforcement officials say the water is safe.
Be prepared: Area residents should be prepared by developing a family plan, creating a disaster supply kit, having a place to go, securing their home and having a plan for pets. Information can be found at the National Hurricane Center's webpage.
Stay informed: The public should monitor the progress and strength of the storm through local television, radio, and the Internet. Boaters can monitor its progress on VHF radio channel 16. Information can also be obtained on small craft advisories and warnings on VHF radio channel 16.
Don't rely on social media: People in distress should use 911 to request assistance whenever possible. Social media should not be used to report life-threatening distress due to limited resources to monitor the dozens of social media platforms during a hurricane or large-scale rescue event.
Source: Safety4Sea