If you've met someone special on your favorite date site and are eager to take your relationship to the next phase, this will tend to involve agreeing to meet somewhere suitably romantic. There are many ideal  locations for you to choose from, covering everything from weekend breaks to a different city, to a recommended restaurant. After connecting on a dating site, you'll build a rapport, finding out about each other's interests – and seabound holidays often feature prominently in shared passions. So one outlet you should consider for its potential for bringing you closer is to embark on a cruise. Once your partnership has attained the level of marriage, heading out on a cruise would be a wonderful suggestion for a honeymoon  activity. So if you're newlywed, here are five cruise ideas you must consider.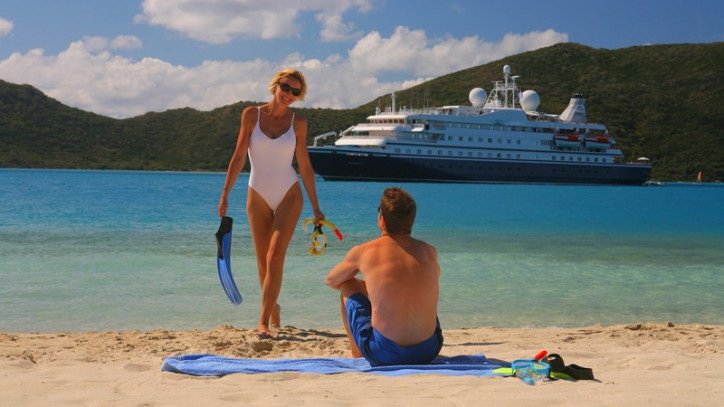 Oceania Cruises
Perhaps not the first choice for newlyweds in terms of romantic activities, Oceania cruises are perfect if you are still keen to stick to interesting itineraries, alongside a sophisticated rather than forced ambiance. The service is always first class, the food wonderful, and you can always upgrade your ticket and book yourself one of the ship's renowned champagne breakfasts, served on a private balcony overlooking the ocean.
You are never in any danger of being overrun by younger couples or having to endure loud party music as the Oceania cruises are strictly for serious honeymooners, especially if you happen to be of a mature isposition.
Paul Gauguin Cruise
What could be more idyllic for newlyweds than a cruise through the beautiful island paradise of the South Pacific? To add to the occasion, this cruise offers a Polynesian blessing ceremony, complete with flower bouquets, and charming local barmaids who will serenade of the new lovers with romantic guitar tunes.
When a bottle of champagne is thrown into the mix, you have gained a passport to a romantic voyage that will stay with you. As long as you and your partner intimate your status, you can upgrade your voyage to a lavish package which will include dining with the captain, regular canopies, a wedding cake, caviar, and more champagne.
Princess Cruises
Princess Cruises offer their newlywed passengers the complete package. The fantastic array of amenities offered by this cruise line include excellent dining facilities, VIP treatment in the gallery, or an exclusive dinner served on your private balcony. Massages are offered indoors and outdoors, and there are various other spa treatments available. The entertainment is second-to-none, featuring a variety of options from movies presented outdoors.
Royal Caribbean International
Another perfect location for any newlyweds to enjoy is the azure seascape of the Caribbean. You and your new partner can choose from a variety of packages, depending on the price you are thinking of paying for the experience. Items which are likely to be on offer include a bottle of the finest Moet and Chandon champagne, Belgian truffles, and chocolate-covered strawberries. Shore excursions are available.
Silversea Cruises
Undoubtedly one of the ultimate cruises when it comes to options for newlyweds, Silversea goes out of its way to spoil its customers. Champagne is inclusive, so as well as having a chilled bottle upon entry, you can ask for one to be iced and sent to your cabin every night, as well as a complement to your breakfast if you're that way inclined!
Silversea cruises do tend to cater to affluent retired couples as well as younger newlyweds but don't let this spoil your entertainment. You will find the relaxed ambiance of the cruise is conducive with making friends of all ages, all of whom are eager to participate in the numerous onboard activities.