While Hurricane Dorian has already passed through the Bahamas causing major disruptions in the area, and also left Florida with little effect, Dorian is now heading for the Mid-Atlantic causing wind and rain to Georgia and the Carolinas.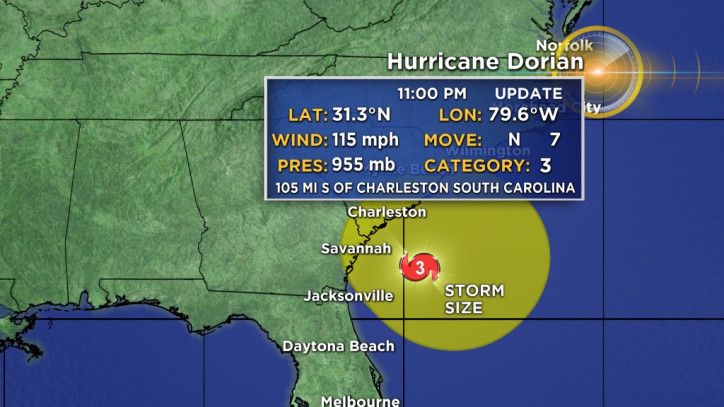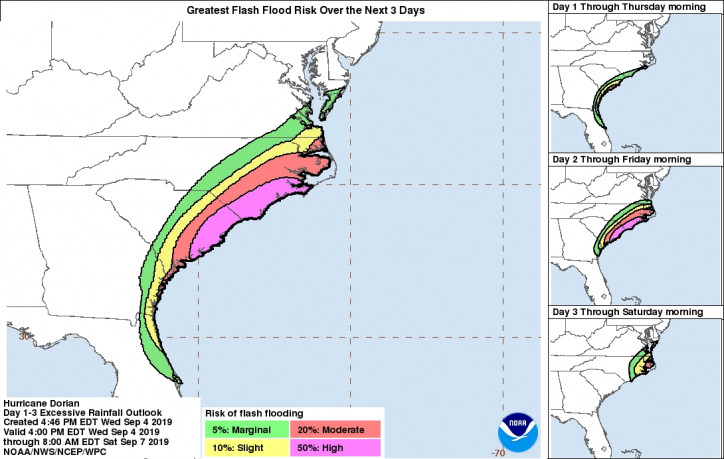 According to local reports, the Hurricane gained back its strength as a Category 3 storm in late Wednesday night. A storm surge warning had earlier been extended for the coasts of South Carolina, North Carolina and southern Chesapeake Bay, after which the storm is expected to head out to sea. Also, the Hurricane is expected to affect South Carolina on Thursday and North Carolina Friday.
Although the hurricane remains of category 3, it is expected to cause heavy rain leading to flash flooding in some coastal areas; Yet, in Friday, September 6, the storm is expected to continue to the northeast over Nova Scotia.
Vice Adm. Andrew Lewis, commander of  U.S. 2nd Fleet commented that
Based on the current track of the storm, we made the decision to begin to sortie our Hampton Roads-based ships and aircraft. This allows time for our assets to transit safely out of the path of the storm.
He continued that not all vessels are able to depart the region because of ongoing maintenance work; However, the crews from the vessels add extra mooring and storm lines, drop anchor and disconnect power cables.
The Hurricane has affected the shipping industry as many ports closed from Florida north to Virginia for safety reasons. For instance, from Monday September 2, the US Coast Guard Captain of the Port (COTP) set port condition Yankee for the Port of Jacksonville and Fernandina and all other terminals and facilities due to the expectation of sustained gale force winds of generated by Hurricane Dorian.
Concluding, to better track and monitor the hurricane's aftermath, US Geological survey scientists have installed storm-tide sensors in Georgia and Florida.
Source: Safety4Sea