With the Coronavirus pandemic resulting in temporary border closures between countries, freight forwarder Haven Shipping had to find an alternative option to road transport for the movement of a transformer and accessories between Oman and Kuwait.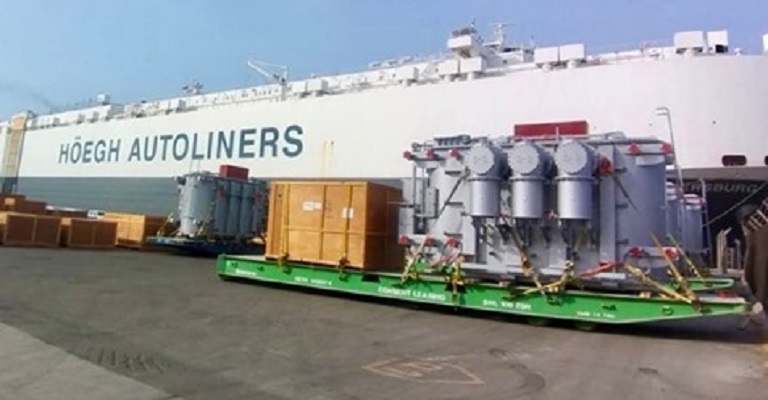 With a deadline to meet, the customer chose Höegh Autoliners for its reliable RoRo liner service and experience in safely handling large breakbulk cargoes.
Reliable ocean transport amidst the pandemic
With road transportation blocked during the Coronavirus pandemic, Höegh's Europe to Middle East RoRo service offered a reliable alternative to Kuwait.
Ajish Venugopal, Sales Manager in Dubai explains: "Having a reliable liner service with a fixed schedule allows the customer to plan the shipment in advance. This was particularly important for the customer who had numerous breakbulk units that needed to be delivered at the same time, to meet a project deadline."
Cargo handling you can trust
The large shipment consisted of 64 static breakbulk units, with the heaviest unit weighing 60 metric tonnes. To transport non-rolling cargo, Höegh Autoliners has a wide fleet of rolltrailers that cater for various breakbulk dimensions. With all units needing to be shipped together on one vessel, the cargo handling team presented an optimal solution using 17 rolltrailers.
To ensure the sensitive pieces did not move during transportation, they were secured on to the rolltrailer using lashings. Transporting sensitive cargo on rolltrailers means that no high-lifting is involved, as the cargo is rolled on and off the vessel. This reduces the risk of damage to the cargo and ensures a much safer operation.
The transformer and accessories were safely loaded on board Höegh Trader in Sohar ready for its sea voyage to Shuwaih.
RoRo ensures safety all the way
Höegh's RoRo vessels stow cargo under-deck in ventilated cargo holds. This keeps cargo safe and dry away from seawater and other environmental elements during its ocean transportation.
Ajish shares: "The customer was impressed with the safety and reliability our RoRo solution offered. The successful shipment comes down to the great collaboration between the customer and our experienced cargo handling team."

A representative from Haven Shipping states, "We are very impressed with the service provided, and this shipment was a perfect example of the dedicated focus and level of professionalism and technical expertise provided by Höegh Autoliners."
Source: Höegh Autoliners