BW Gemini is the first of 12 Very Large Gas Carriers that BW LPG has committed to retrofit with LPG dual-fuel propulsion engines at a Chinese shipyard, aimed at zero-carbon fuel propulsion, a company spokeswoman said.
"BW Gemini, BW Leo and BW Libra are currently at Yiu Lian dockyard. All 12 VLGCs will be retrofitted at Yiu Lian dockyard and are expected to be completed by end 2021," a BW LPG spokeswoman said.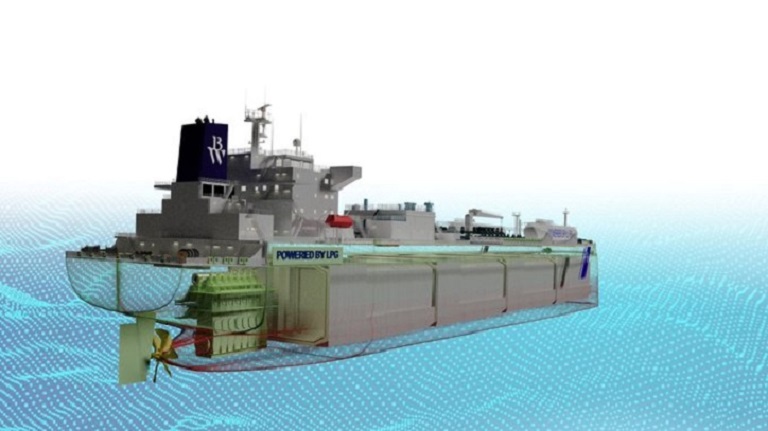 The company, associated to shipping giant BW Group, was responding to S&P Global Platts' queries on market reports that the BW Gemini took one of her first voyages last week after dry-docking in early August at Yiu Lian shipyard to be retrofitted with dual-fuel propulsion engines, a first among the LPG carrier fleet.
The cost of retrofitting is about $9 million for each vessel and takes around two months, the spokeswoman said.
Explaining the choice to retrofit with dual-fuel propulsion engines instead of scrubbers, she said while scrubbers may be appropriate in some contexts, "we have taken a longer-term perspective to invest in R&D to advance the technology needed for LPG propulsion".

"Although it requires significant upfront investment, the returns are positive in both financial and environmental terms, and demonstrate our commitment to action on ESG [Environmental, Social and Governance]," she added.

Compared to compliant fuel, LPG propulsion reduces fuel consumption by 10%, sulfur dioxide by 99%, particulate matter by 90%, carbon dioxide by 15% and nitrogen oxide by 10%, she said.

Operationally, LPG is a cleaner fuel and easier to manage, while bunkering LPG during cargo loading saves up to four days of bunkering time per year and running on a mix of fuels at any time, the company said.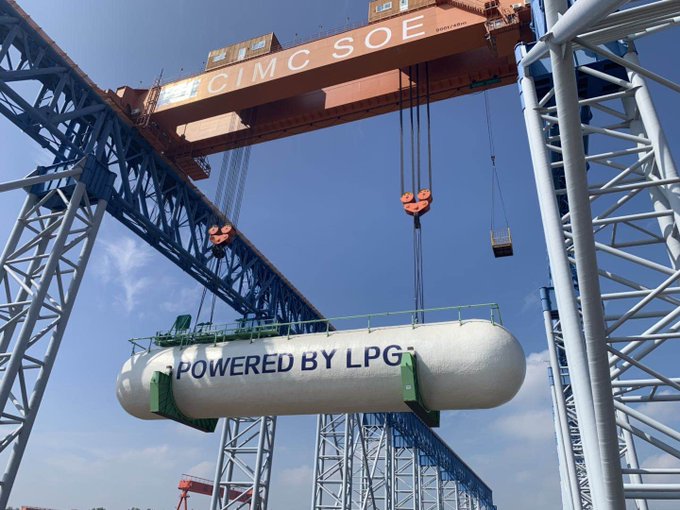 "Economically, we save from lower fuel consumption, and save on bunkering logistical costs and the expected price differential between LPG and compliant duels," said Singapore-based BW LPG, which in 2019 expanded into LPG trading with the formation of a product services division to support its core shipping business.
The spokeswoman said while BW LPG does not own or operate any pressurized ships or coasters, the company believes the technology can be implemented on the majority of current vessels on water without the need for newbuilding orders.
PRESSURIZED VESSELS
BW Group, which operates the world's largest gas shipping fleet for LNG and LPG, took a majority share of pressurized LPG carrier owner and operator Epic Gas in March 2019.
Epic Gas CEO Charles Maltby told Platts the company, which owns and operates 43 pressurized LPG carriers of 3,500-11,000 cu m, currently uses traditional low-sulfur fuels, leading to an on-year reduction of 77% in sulfur oxide emissions and full IMO 2020 compliance.
He said following a review, the company found the fitting of scrubbers "makes limited economic sense at this point in time" as their fleet makes frequent port calls in regions that have 0.1% requirements, reduced sea time and fuel consumption as well as burning less fuel at sea, while the amount of fuel consumption per vessel per year was relatively low.
"But it is the case, as we turn to beyond 2030 and towards 2050, that dual fuel LPG is of interest to us for the future," he said.
Aside from the cleaner energy properties of LPG, it is likely a convenient fuel for their vessels to stem at load and discharge ports when carrying LPG, Maltby added.
Near term, Epic Gas is focused on cutting emissions of existing vessels via a mix of energy-saving and emission-reducing investments, including silicon paint, vessel performance monitoring and management and propeller boss fin caps, he said.
BW LPG said in its Q2 report in August that the global VLGC fleet rose to 299 with the delivery of 17 new vessels end July and four more this year.
Another 19 are planned for next year and 11 in 2022, it said, adding the orderbook till end 2022 stands at 11% of the total VLGC fleet. BW LPG has 15% of global VLGC market share, or 46 vessels.
Shipping brokerage Gibson said in a report that VLGC owners are expected to fit another eight vessels with dual-fuel engines in 2022.
It said no retrofittings have been planned so far among smaller segments. But out of an orderbook of 10, five newbuilding MGCs — in the 24,000-40,000 cbm range — will be delivered with dual-fuel engines from 2021.
Source: Platts