RNLI lifeboat crews from Dunmore East, Kilmore Quay and Rosslare Harbour were requested to launch Tuesday 20 October after reports that a 4,000-tonne cargo vessel, the Lily B, had lost all power and was in danger of hitting rocks south of Hook Head in Wexford.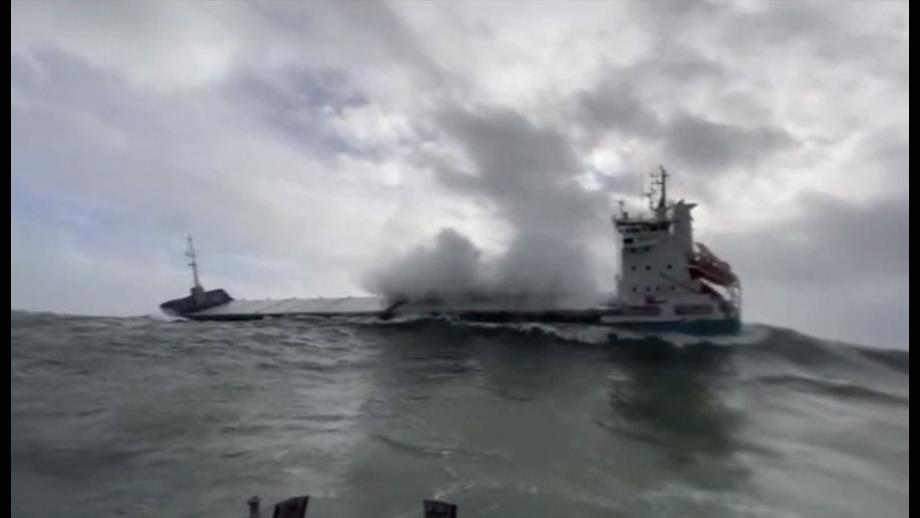 The cargo vessel with a crew of nine onboard, was carrying coal when it lost power and came within a half a nautical mile of coming ashore on the Hook.
The call for help came in around 3pm when the Irish Coast Guard in Dublin requested lifeboats from Dunmore East, Kilmore Quay and Rosslare launch to the scene, just south of Hook Head in Wexford. The Coast Guard helicopter from Waterford, Rescue 117 was also tasked, monitoring from overhead and ready to assist with evacuation of the crew if needed.
In force eight conditions, Dunmore East and Kilmore Quay RNLI established tow lines onto the drifting vessel which was then very close to the rocks. The two lifeboats maintained the tow and kept the cargo ship away from shore while a tug was en route from Waterford. Rosslare RNLI stood by.
Battling strong waves over six metres high, the three lifeboat crews worked together to ensure the cargo vessel stayed away from the rocks until the tow was passed to the tug on its arrival at 5.40pm. Escorting the vessels until they reached the calmer waters of Waterford Harbour in the early hours of Wednesday (21 October) the lifeboat crews were eventually stood down and returned to station.
Speaking on the callout Rosslare RNLI Lifeboat Operations Manager David Maloney said, ' If it wasn't for the work of the three lifeboat crews out in force eight conditions I fear the vessel would have hit the rocks and there could have been a serious loss of life. The 4,000-tonne vessel came within a half a mile of the shore and Dunmore East and Kilmore Quay lifeboat crews had an incredibly difficult job in keeping it away from the rocks.

'The seas were huge, and it would not have been pleasant for anyone out there in those conditions. The lifeboat crews were out for over twelve hours in a callout that involved serious skill and concentration and I am tremendously proud of all three lifeboat crews involved. Thankfully we did not have a tragedy today.'