DP World's container terminal in Southampton welcomed the CMA CGM JACQUES SAADÉ, the world's first 23,000 TEU (twenty-foot equivalent unit) containership to be powered fully by Liquefied Natural Gas (LNG).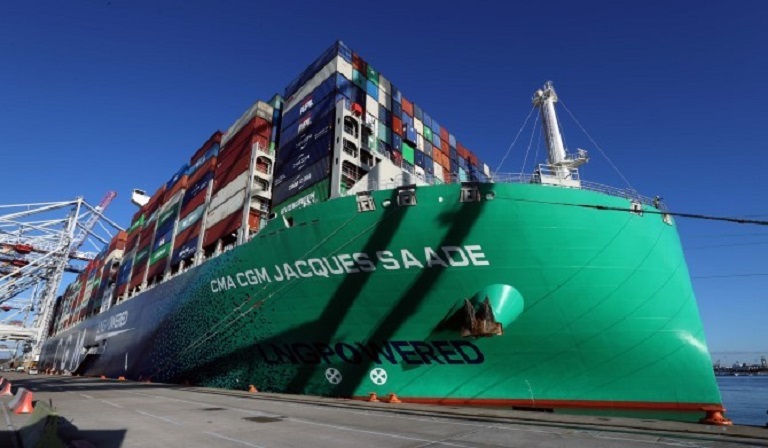 The CMA CGM Group's new flagship vessel recently set another new world record for the number of full containers loaded on a single vessel, carrying 20,723 full containers, on her departure from Singapore.
LNG, a substitute for fuel oil, is currently considered to be the least polluting type of marine fuel currently available. It reduces greenhouse gas emissions and improves air quality. It enables a 99 per cent reduction in sulphur dioxide and fine particle emissions, and an 85 per cent reduction in nitrogen dioxide emissions, going well above and beyond existing regulation. LNG emits up to 20 per cent less CO2 compared to fuel motorisation.
Ernst Schulze, Chief Executive Officer, DP World in the UK, said: "We are delighted to be working with the CMA CGM Group, a world leader in shipping and logistics, to welcome the world's largest green vessel to one of our two terminals in the UK.

"As the leading enabler of global trade, DP World is committed to making supply chains more sustainable. We continue to review our own assets, infrastructure and performance to ensure we deliver the highest levels of service to customers in the most productive and sustainable way."

Gary Jeffreys, Chief Executive Officer, CMA CGM UK said: "The CMA CGM JACQUES SAADÉ embodies our commitment to the planet. This vessel has been enhanced with the latest technologies and is the result of seven years of research and development. While guaranteeing the safety of our crew, it preserves air quality and will be part of our action against global warming. It significantly improves the environmental footprint of carried goods. We have taken a big step forward. We need to go further to build transport that is even more respectful of the environment."
DP World is committed to reducing its global carbon footprint and improving air quality. At its container terminal in Southampton, DP World has reduced its nitrogen oxide emissions by more than 50 per cent since 2016 by constantly renewing and upgrading its own fleet of vehicles and mobile equipment. Close to 35 per cent of the containers moved inland from Southampton are moved by rail.
The CMA CGM JACQUES SAADÉ is the flagship of the CMA CGM fleet. The vessel and her eight sister ships are packed with innovations, the result of a seven-year long cooperation between CMA CGM's research and development experts and industrial partners.In addition to LNG motorisation, the vessels offer advanced technologies:
- The cockpit boasts the latest embedded digital technologies to assist the commander and crew, in particular for port manoeuvres;
- They feature a redesigned straight bow with an integrated bulb, a redesigned rudder, and a redesigned propeller all of which substantially improve the vessels hydrodynamics, thereby reducing energy consumption.
In 2017, CMA CGM committed to equipping its future nine 23,000 TEU vessels only with LNG. These nine are part of a fleet of 20 LNG-powered vessels which the shipping line will have commissioned by 2022, alongside five 15,000 TEU vessels and six 1,400 TEU vessels.
Source: CMA CGM
Additional  information about the Port of Southampton at CruiseMapper