ABB's Azipod® propulsion for the much-anticipated ferry Viking Glory (CruiseMapper) will provide maneuverability benefits for which the system is renowned, plus the fuel efficiency to match Viking Line's environmental objectives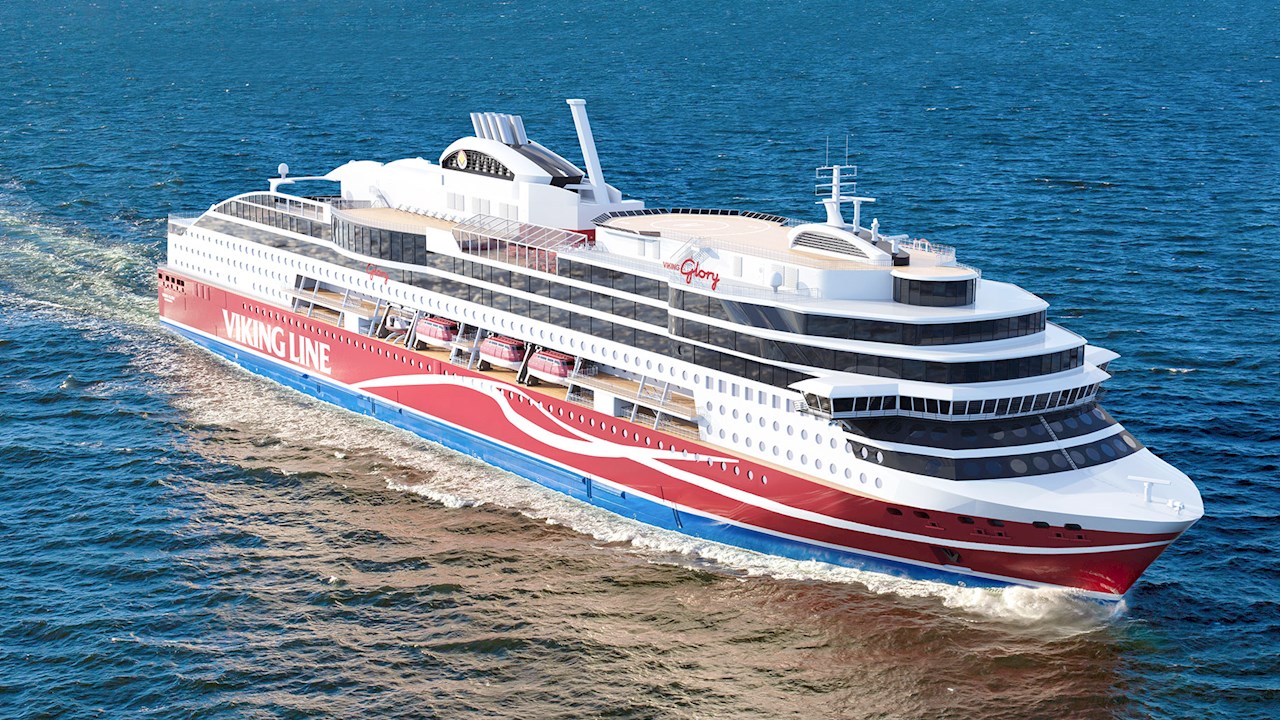 As the latest addition to Viking Line's fleet of environmentally conscious Baltic Sea cruise ferries, Viking Glory will be the operator's greenest passenger vessel yet – and one of the greenest in the industry. It is no coincidence that the cruise ferry will also be the first of its kind to deploy Azipod® propulsion, with ABB Marine & Ports now having completed after installation and the commissioning is carrying out on schedule.
Detailed simulations have already shown by how much the inclusion of twin Azipod® units and consequent hull optimization can enhance the vessel's hydrodynamic performance, as well as its maneuverability in port.

"We're getting ready to welcome the most efficient cruise ferry operating in the Baltic, if not the world," explains Viking Line's newbuild project manager Kari Granberg. "Water resistance was lower by around eight percent when measured against a traditional shaft line propulsion system. Meanwhile, the ship's maneuverability increases to such an extent that we expect time saved in port to allow us to reduce service speed by one knot, which corresponds to an energy saving of about 2 megawatts while keeping the ship's schedule."
Fuel efficiency was a key consideration in the selection of Azipod® propulsion, according to Marcus Högblom, head of ABB's passenger vessels segment. He describes it as a remarkable breakthrough for Azipod® on three fronts: with Viking Line; for a cruise ferry; and for a Chinese-built passenger ship with Azipod® XO propulsion system.
As part of the integrated scope, ABB is also supplying ABB Ability™ 800xA automation, power management, bow thruster motors and remote diagnostics services.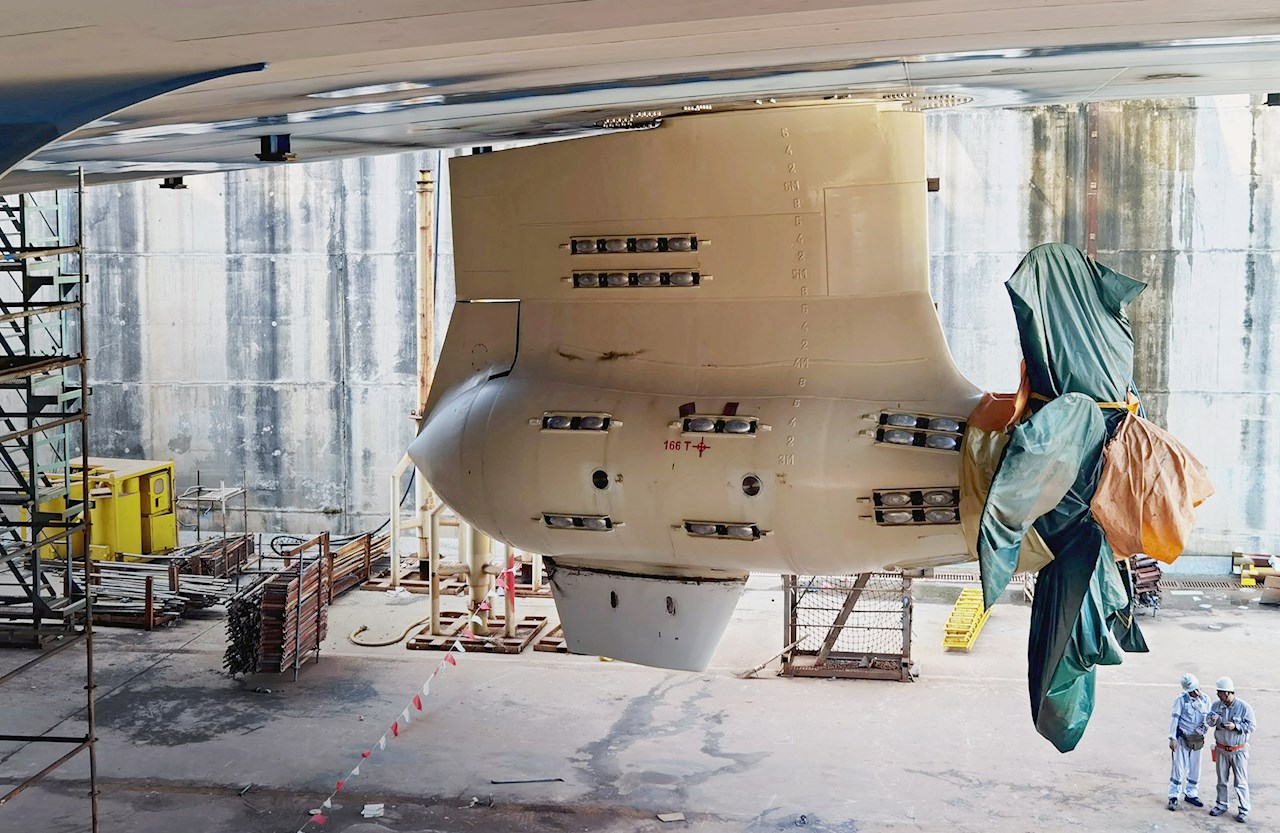 Fuel efficiency quantified
"Last year, an independent study by the marine consultancy Deltamarin found that Azipod® propulsion could help ferry owners save up to $1.7 million in annual fuel costs per vessel while cutting emissions by around 10,000 tons," says Högblom. The study simulated transit on seven existing ferry routes and found that a ferry equipped with twin 10-megawatt Azipod® units consumed less fuel compared to a similar vessel powered by a traditional shaft line propulsion system. "This level of fuel efficiency was very high in the considerations of Viking Line – a company that places great importance on sustainable operations."
Viking Line's dedication to protecting the environment has already been demonstrated in Viking Grace, a cruise ferry for which ABB previously supplied a complete electrical power plant and shaft line propulsion system alongside ABB energy-management advisory software. "Viking Grace is still recognized as one of the most climate-smart vessels in its class," says Granberg. "Similarly, Viking Glory will also be powered by the low-emission liquefied natural gas but, in terms of efficiency, is expected to achieve a 10 percent reduction in fuel consumption."
Unparalleled environmental performance is only one of Viking Line's targets for its new flagship. The innovative vessel will also provide a unique passenger experience. Large panoramic windows will offer uninterrupted views, while stylish interior design and furnishings will capture the essence of Scandinavia and the Baltics. "Guests on board the ship being able to enjoy these surroundings in supreme comfort is also partly thanks to Azipod®, which minimizes vibrations and noise pollution," says Viking Line Captain Ulf Lindroos.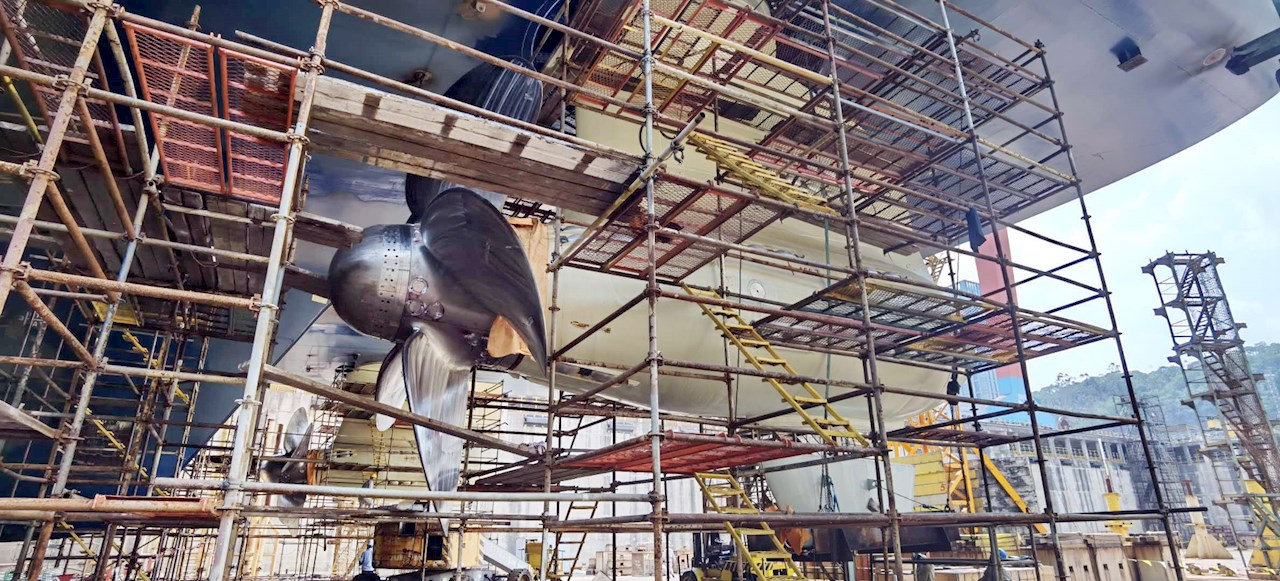 Vessel handling will also benefit from Azipod® propulsion, as demonstrated by simulation trials last year completed by Captain Lindroos. The captain, who will command Viking Glory, hasvirtually navigated a ferry to berth in the most safe, efficient, and sustainable manner.
"The system is easy to maneuver, easy to use, and you don't need to use a rudder," says Captain Lindroos, reflecting on the benefits of the Azipod® propulsion.
Made in Europe, delivered in China
Xiamen Shipbuilding Industry Co., (XSI) where VikingGlory is currently under construction, started the Azipod® installation works early September. The highly sophisticated Azipod® units were built in Finland and subsequently delivered to China for installation. With global travel restrictions, ABB deployed its highly skilled regional workforce to support the shipyard in bringing the installation to a successful completion.
Zeng Zhenyu, Vice Chief Engineer and Project Manager at XSI, explains: "Since ABB's Europe-based commissioning specialist were unable to travel to China, the company deployed local ABB Marine service team for Azipod® installation support, as well as a welding specialist from ABB Marine & Ports unit in South Korea. The relationship between ABB, Viking Line and staff at the shipyard has proved to be highly collaborative, with the installation executed faultlessly."

"Our scope on board Viking Glory is significant and impacts large portions of the ship. This meant that we had to work as a team in methods that we have not been accustomed previously," said Hanna-Kaisa Yrjänäinen, ABB's Project Manager for Viking Glory. "Coordinating across our different product areas as well as employing the latest digital technology meant that our global commissioning engineers were supported by the best technical minds regardless of travel restrictions. I am proud on how our team was able to adapt to global challenges and deliver our solutions to both XSI and Viking Line."

"The impact of pandemic was unexpected, especially on the staff deployment. With remote support from our Finnish colleagues, ABB Marine & Ports China team handled the situation proactively and finished Azipod® installation successfully. It is a good proof that as a global company, ABB has the full capability of cooperation and coordination to fulfill our commitments to customers," says Robin-Yang Shen, Operation Manager, ABB Marine & Ports China.
Propelled towards a greener future
VikingGlory is set to embark on its maiden voyage in 2021. When she does, the agreement between ABB and Viking Line also includes an automation contract for additional efficiency gains and is part of robust relationship between the two parties.
"As well as having supplied Viking Glory's predecessor VikingGrace, we recently delivered shore connection technology for Viking Line's high-speed passenger ferry Viking XPRS," says Marcus Högblom. "We are honored to support the company as it continues its journey towards greener cruise and ferry operations in the Baltic Sea."

Viking Line's Granberg believes the new addition will be warmly received. "Environmental responsibility and passenger experience are two cornerstones of our work, and Viking Glory will reflect those principles more than any Viking ship before it. This is, in no small part, down to the Azipod® system, which will be the driving force behind VikingGlory's unmatched efficiency and sustainability."