The first three new Walk-to-Work Commissioning Service Operation Vessels (CSOVs) built by the Dutch Damen Group for Windcat Offshore will be powered by full propulsion packages from SCHOTTEL. The design of Windcat's Elevation Series CSOV is the result of an extensive cooperation between Damen, Windcat, CMB (Compagnie Maritime Belge) and all stakeholders, producing extremely efficient, powerful and comfortable vessels.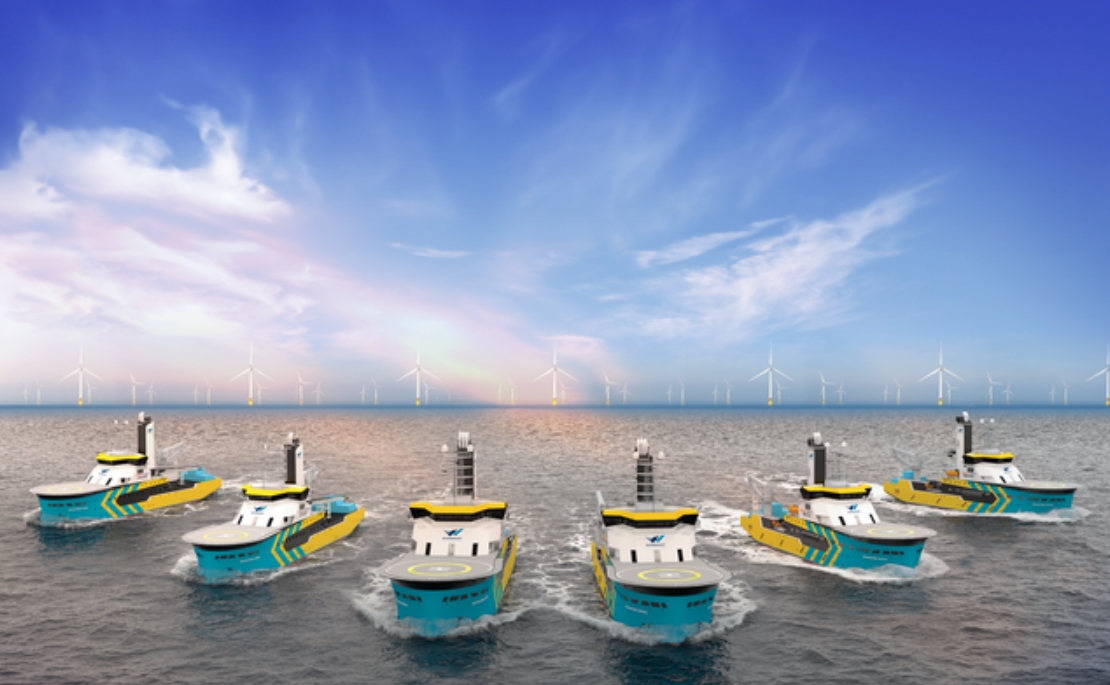 With vessel sizes of 87 metres by 20 metres, each CSOV will come with high-comfort accommodation for 120 passengers, and will provide a large warehouse and deck as well as various recreational areas and a hospital. The vessels will be powered by hydrogen and use a DP-2 control system. The propulsion system will consist of four SCHOTTEL Dynamic RudderPropellers of the type SRP 430 D. As wind farms are developed further offshore and crews need a home away from home, Netherlands-based provider of specialist crew transfer vessels to the offshore wind power industry Windcat is expanding its fleet with these new CSOVs. They will service offshore wind parks in Europe and beyond. The contract for the three CSOVs comes with an option for three more vessels.
Saving fuel and increasing the number of working days
"The Elevation Series will lead the sector in exploring hydrogen as a fuel while delivering best-in-class performance and flexibility. It will set new standards in terms of comfort for crews and passengers. The SRP-D is a perfect match because it will also save fuel thanks to its minimized DP footprint and increase the number of working days at sea by up to five days per year," states Willem van der Wel, Windcat's Managing Director.
No other types of thruster required
Each of the thrusters is rated with an input power of 1,780 kW and has a propeller diameter of 2,500 millimetres. They will be arranged in Damen's DPX-Drive configuration at the bow and stern starboard and port side. No other types of thruster are required in this layout. Besides greatly reduced propeller acceleration/deceleration times and a high-speed azimuth steering system, the SRP-D additionally features a compact design with an integrated prime mover ("Embedded L-Drive") and an eight-degree tilted propeller shaft, resulting in less thruster-thruster and thruster-hull interaction.
Effectiveness confirmed by independent sources
Earlier investigations of the SRP-D by classification society DNV and MARIN (Institute for maritime research) showed that the effect of its highly dynamic thrust allocation is most evident in harsh weather conditions and that the new thruster significantly improves a vessel's operational performance. Recent independent research has confirmed immediate and considerable improvements with the SRP-D with a current DP control system, even in WCF (worst-case-failure) scenarios.
SRP-D in high demand for CSOVs
The SRP-D was specifically engineered for challenging offshore applications, meeting the demands for a minimized DP footprint, enhanced positioning accuracy and fuel savings. Since its launch, it has been in high demand for CSOV newbuilds. SCHOTTEL is currently supplying the SRP-D for seven vessels with 20 units overall and has options to equip seven more vessels with this type of thruster. The three vessels in the Elevation Series are being built at Damen's Ha Long Shipyard in Vietnam. The first CSOV will launch in 2025 and be used by wind turbine technicians performing commissioning and maintenance work on offshore wind turbines.