During the annual Goed Geld Gala (Good Money Gala) held in Amsterdam on the 26th of January, Sea Shepherd received its biggest donation to date in the amount of 8.3 million Euros ($9.35 million). The donation will be used to construct the organization's very own "Dream Project" – a new ship designed for the purposes of its "Stop Illegal Fishing in the Southern Ocean" campaign.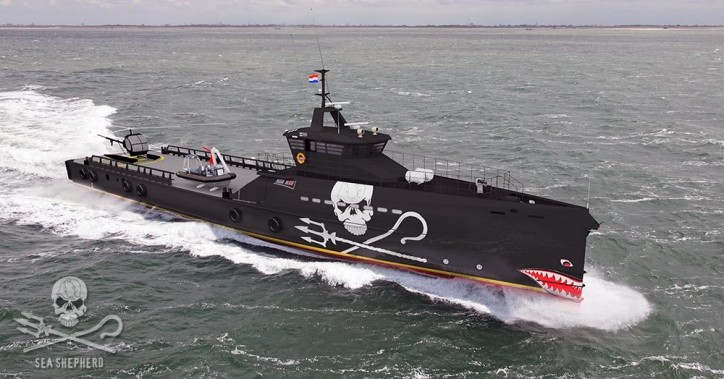 Artists' impression of Sea Shepherd's 'dream' ship by Artist Damen
Ever since 2002, Sea Shepherd has been hunting down illegal whalers and illegal fishermen in the waters around the Antarctica. Although Sea Shepherd's efforts have proven to be quite efficient, its fleet is aging and the vessels are lacking the necessary speed. For some time now, Sea Shepherd has looked for a ship that is able to display the required high top speeds to be the Southern Ocean Patrol flagship. Up till now, though, restrictions in the budged have rendered the task impossible.
Now Sea Shepherd will be able to have its own custom-made ship that will manage to demonstrate speeds that exceed by a great margin those of the vessels it currently has at its disposal. After having completed a thorough research, regarding possible ship builders, that lasted for the past two years, negotiation talks with Dutch ship builder Damen have resulted in a blueprint for our ideal vessel, commented Alex Cornelissen, CEO of Sea Shepherd Global.
"The Southern Ocean remains one of the last regions on Earth that manage to display the planet's natural beauty. Sadly, we are becoming witnesses to more and more cases involving illegal activities that aim to change that. Unregulated and illegal extraction of marine wildlife is greatly disrupting the Antarctic eco-system and if we don't take immediate measures the consequences will be nothing but dreadful."

"As of the moment we are able to go on with the purchase of our dream vessel and thus lift our efforts of protecting the Southern Ocean from illegal exploitation to a higher level. We have nothing but gratitude towards the Dutch Postcode Lottery and the people of the Netherlands for awarding us with their thrust and this far too generous financial support," further added Cornelissen.
Sea Shepherd received a 8.3-million-euro donation from the postcode lotteries in the Netherlands, Sweden and the UK. The Dutch Postcode Lottery accounted for 7.5 million of the donation. Also regarding the Dream Project, Sea Shepherd received another check for 900, 000 Euros from the Postcode Lottery, thus bringing the total amount of the donation received by Sea Shepherd from the Lottery since 2007 to an astounding 15.5 million Euros.