For a long time people have been waiting for the Philippine Navy (PN) to enhance its fleet by integrating modern sea vessels. The process has fortunately been started with the ceremonial "steel-cutting" in Indonesia last week which was attended by Navy officials.
This developed as building of the two strategic sealift vessels (SSVs), for which the Navy placed an order to an Indonesian company, was formally initiated.
Vice Adm. Jesus Millan, Navy flag officer in command, headed a Navy delegation to Indonesia during the past week for the ceremonial "steel-cutting ceremony" that formally begins the building process of the two vessels.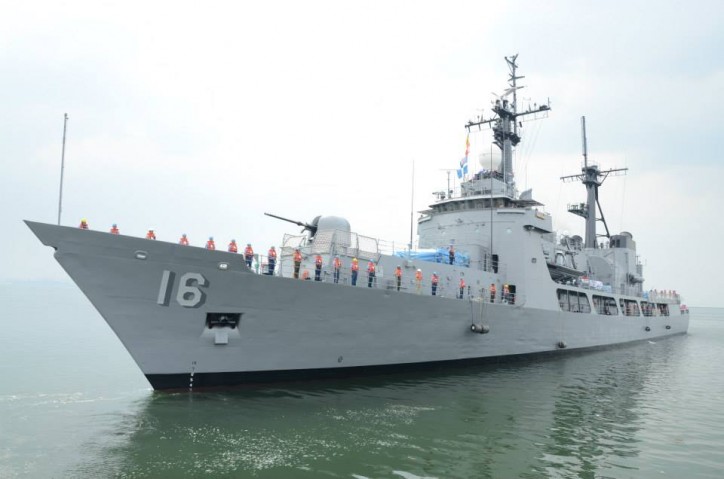 "BRP RAMON ALCARAZ" by Philippine Navy
Other officials, such as Rear Adm. Romeo Santiago Nebres, commander of the Naval Sea Systems Command; Commo. Narciso Vingson Jr., commander of the Sealift Amphibious Force; and Capt. Alberto Carlos, assistant chief of Naval Staff for Logistics (N-4), accompanied Vice Adm. Millan during the trip.
Cmdr. Lued Lincuna, the Navy's Public Affairs Office chief, commented that the first and second SSVs are to be delivered to the Navy not later than May 2016 for the former and May 2017 for the latter.
The acquisition process of the two SSVs, that in total have a budgeted cost of P4 billion and are sourced out from the military's modernization budget, began back in October of 2013 via an acquisition memorandum issued by Defense Secretary Voltaire Gazmin.
On November 14th, 2014, the bidding was won by PT Pal Indonesia, which was the only calculated responsive bidder that offered a bid price of P3.870 billion.
Lincuna commented that the SSVs are designed to serve the purpose of being the Navy's floating command center, carrying out their main objectives in the role of military sealift and transport vessels, and are to be also employed for humanitarian assistance and various disaster-response operations.
The two ships are also critical assets regarding civil-military operations due to them being able to transport large numbers of soldiers, logistics as well as supplies.
Each of the two SSVs has the capacity needed to house three helicopters.
"The Navy's Augusta Westland 109s are designed to be sufficient onboard components of these ships," Lincuna further added.
The helicopters in question, which were acquired recently, were multipurpose rotary wing vehicles.