Dublin Port Company's brand new Alexandra Quay Container Terminal has been officially opened, following a 35-million-euro (USD 39.6m) investment.
The opening serves as the concluding third and final phase of the new facility's development. This third phase will make sure to provide the necessary modifications and add-ons for the terminal to be able cater for an additional 80,000 TEUs (twenty foot equivalent units) on an yearly basis and thus bring the terminal's total capacity to over 400,000 TEU per year.
The project's first two phases centered around the construction of new runways for three rows of rubber tyred gantry cranes (RTGs), a type of large mobile crane that is used for the stacking of shipping containers.
The third and final phase featured an additional fourth runway for RTGs and deepened and further enhanced the quay wall in order to make possible the loading and discharging of larger container vessels via ship-to-shore gantry cranes.
Burke Shipping Group, the terminal's operator, has invested in a new seventh RTG and will take delivery of a ship-to-shore gantry crane later this year.
The completed terminal has a total area of 10.7 hectares and the this development comes right at a time when Dublin Port's full year trading figures display a 7% increase for 2014, thus equalling the record levels that were set back in 2007.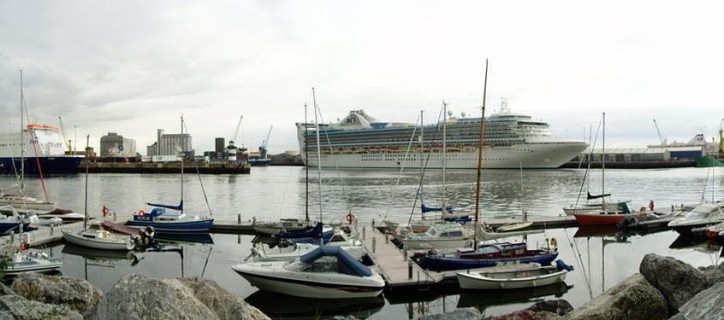 "Dublin Port" by Photos taken by Georg Wedekind, stitching by Jan Wedekind - MMVL Mediawiki