Singapore port held another glamorous naming ceremony for first of a kind 50,000 DWT MR chemical tanker.
In the presence of many international guests and it's new captain Jacob Valiaveed, Jesslyne Widjaja (Director Corporate Strategy & Business Development, GAR) became the godmother of IMOIIMAX Stena Impression. The impressive vessel is equally owned by a joint venture between Stena Bulk and Indonesian Golden Agri Resources (GAR) and will be operated by Stena Weco. The ship is the first one from a 10-vessel order with a total cost of $400 million and scheduled to be completed by 2017.
These new vessels will be added to the Stena Weco logistical systems which will then reach 60 tankers.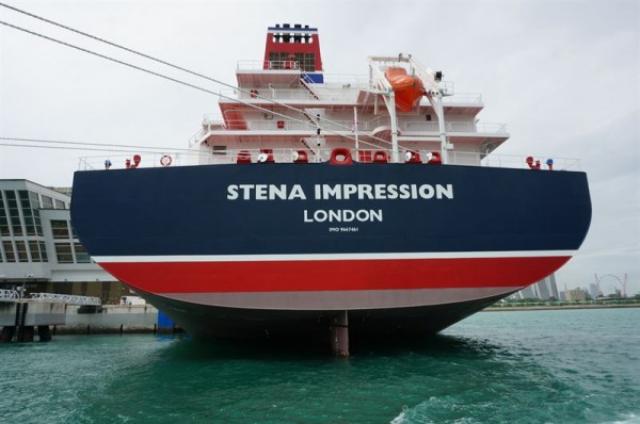 The new Stena ships have been designed to transport clean and dirty petroleum products, as well as vegetable oils. Exactly palm oil will be the first cargo IMOIIMAX Stena Impression will have to deliver on its maiden voyage to US. The duration of the sail is expected to last 2 months.
Erik Hånell, CEO of Stena Bulk stated that IMOIIMAX tankers would be of significant addition to the successful collaboration with Golden Agri and one step ahead to one more sophisticated trading system.
What makes the new IMOIIMAX tankers special is the unique design, result of the team work between Stena Teknik and Chinese shipyard Guangzhou. A tanker is designed to have 18 equal tanks, as each one of them has the capacity of 3 000 cubic meters. Only this one innovation gives the cargo a better flexibility. But there are also other improvements like the auto-tuning main engine, recovery of propeller energy loss, effective tank-cleansing system, aerodynamic design of the accommodation and bridge etc.
All innovations put into action lead to 10-20 percent lower fuel consumption when the vessel sails at service speed. Exactly flexibility and energy efficiency are the main features that distinct the IMOIIMAX concept from the other vessels from the same class.
Mr. Hånell gave also some information in advance regarding the next tankers of the order which are about to be delivered:
- The Stena Impeccable - owned by Stena Bulk and GAR
- The Stena Immaculate - owned by Stena Bulk and GAR
- The Stena Immortal - owned by Stena Bulk and GAR
- The Stena Imagination - owned by Stena Bulk and GAR
- The Stenaweco Impulse - owned by Stena Bulk and GAR
- The Stena Imperative - owned by Stena Bulk
- The Stena Imperial - owned by Stena Bulk and GAR
- The Stena Important - owned by Concordia Maritime
- The Stena Image - owned by Concordia Maritime
Photos: Kristofer Hultén